WORKS AUTOMATICALLY—NO WATER TO ADD AND NOTHING TO MANAGE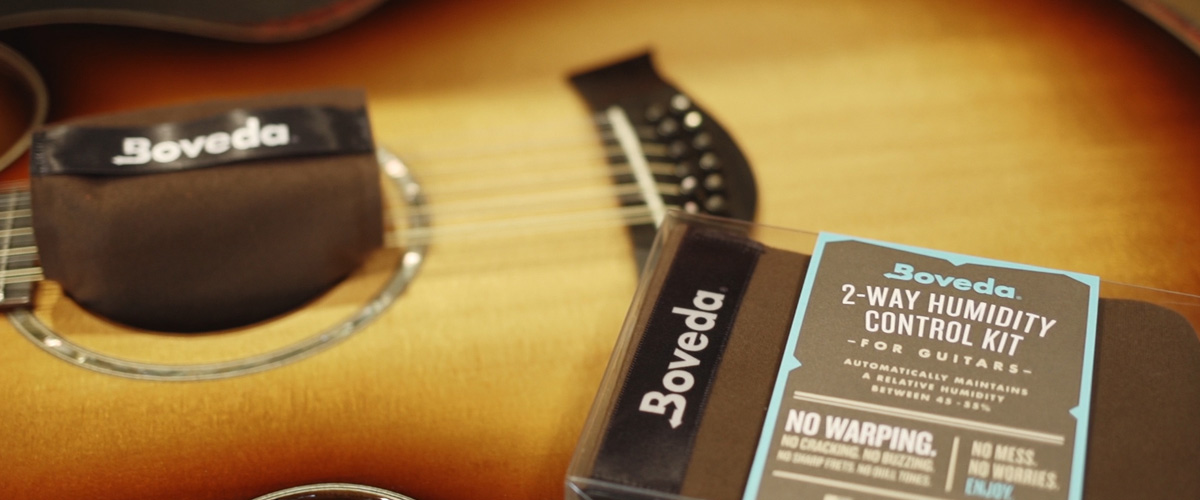 Busy musicians use Boveda to automatically keep their instruments at an ideal humidity level for months.
Stop exposing your wood instrument to humidity fluctuations day after day. It can throw off your instrument's measured alignment and cause permanent damage to its physical makeup. Musicians use Boveda's 2-way humidity control kit to keep wood instruments in perfect playing condition and out of the repair shop.
Compatible with large fretted, bowed or woodwind instruments, including:
Acoustic Guitar
Acoustic Bass
Cello
Guitarrón
String Bass
Bassoon
Bass Clarinet
A small Boveda Instrument Humidity Starter Kit is also available for smaller wood instruments including violins, mandolins and more.
HOW BOVEDA WORKS TO PROTECT YOUR INSTRUMENT IN ITS CASE

Boveda releases pure water molecules in and around your instrument.
Only water molecules flow in and out as needed from Boveda's patented membrane (shown in white).
The blue layer depicts the salt-based solution of pure water and natural salts inside Boveda. The salts are the brains that know when to absorb and when to release the water molecules. The salts never leave the protective membrane.
HOW TO USE BOVEDA: 3 EASY STEPS
Wooden instrument case? For best results, season a wooden case with Boveda Case Seasoning before using a starter kit. Most wood instrument cases are made of twice as much wood as the actual instruments they hold. Wood is especially porous, which creates a volatile atmosphere inside a case. Seasoning stabilizes the atmosphere to help Boveda work more efficiently.
ABS plastic or fiberglass case? Proceed to STEP 1 below.
Soft case or hard bag? Proceed to STEP 1 below. (Unlike a hard case, a soft instrument case or bag is made from materials that generally allow more air to pass through. While Boveda will still provide humidity control in a soft case or bag, the increased airflow will reduce the lifespan of Boveda.)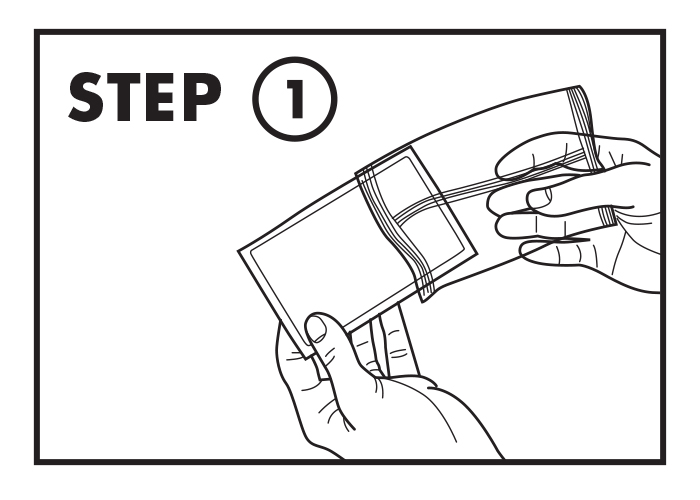 Step 1: Remove the plastic from the Boveda (DO NOT) open the Boveda itself.)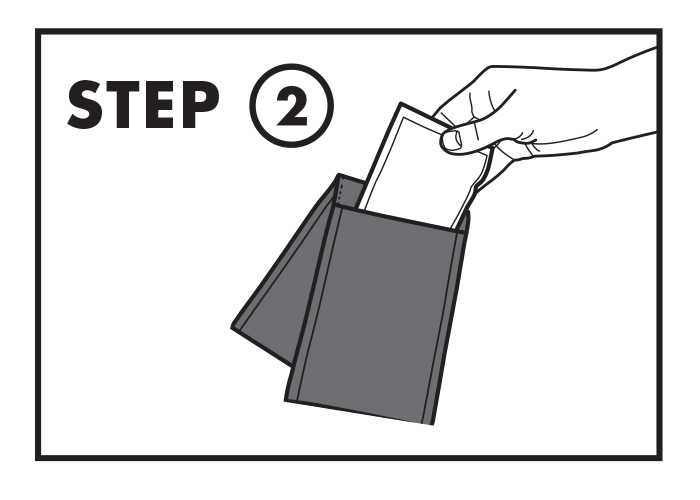 Step 2: Place one Boveda into each sleeve of each cloth holder provided. (Use all 4 Boveda.)
Step 3: Options for Placement in a Case
For Acoustic Guitar & Bass: Cloth holder 1, drop into sound hole. Cloth holder 2, place under neck/head stock or in storage compartment.
For Cello & String Bass: Cloth holder 1, under tail piece. Cloth holder 2, hang on tuning peg.
For Bassoon & Large Case: Cloth holder 1, inside open cavity. Cloth holder 2, inside storage compartment.
IMPORTANT: DO NOT PLACE BOVEDA WHERE IT COULD BE CRUSHED OR PUNCTURED. To insure proper humidification and safety of your instrument, always insert Boveda packets into the sleeves of the cloth holder.
HOW TO GET THE MAXIMUM LIFE FROM BOVEDA
Always keep the musical instrument's case tightly closed, even while the instrument is out of its case.
Initially, Boveda has a lot of catch-up work to do as it stabilizes the atmosphere inside your instrument case. Therefore, your first set of Boveda won't last as long as subsequent sets—especially if you use Boveda in a dry wooden case.
Once your case's humidity level has been balanced, on average you can expect 2–6 months of usage life depending on:
Case quality
Size of the case
Amount of Boveda used
External environment
WHEN TO REPLACE BOVEDA
BOVEDA WILL SOLIDIFY AS IT EXPIRES. Replace when the entire contents of Boveda become a hardened gel.
NOTE: Do not mix different Boveda RH levels within the same instrument case. Instead of creating a new "average" RH, the moisture will merely transfer back and forth between the Boveda. Do not use Boveda with other humidification products like sponges, oases and discs. They will fight against each other and reduce the efficiency of the Boveda.