Home Grow: Part 1, Eager to Garden and Legal to Do It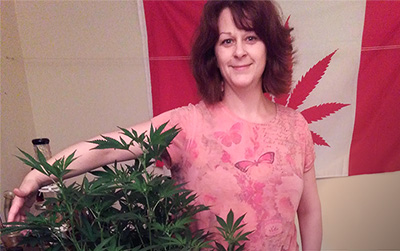 It's the ultimate green renovation—revamping a closet to make room for a crop of medical cannabis. Join Boveda blogger, Dianna Donnelly as she plots her personal medical cannabis growing operation. Dianna is just one of more than 6,800 Canadians who are registered to cultivate their own medical cannabis, according to a June 2017 report from Access to Cannabis for Medical Purposes Regulations (ACMPR).
The first time I sprouted a cannabis seed was in 2003. I had just purchased my first laptop and began researching this incredible plant. Online I learned how to germinate the seed in a damp paper towel on a tea saucer inside of a sandwich bag. In three days, my seed awoke. It was all legs. Long, white and hairy legs. But at the other end a little green sprite was trying mightily to break out of the confines of its seed shell.
I planted that wiry and eager sprout in a container filled with soil from my backyard. (I remember sneaking the dirt inside the house "007-style," so no one would suspect my crime.) My plant sat under a bedside lamp in my basement. Two weeks later, I realized my dad was coming over to help me paint what had become my grow room. Before he arrived, I hid my secret wonder out in the shed, forgetting how sheds and fathers attract one another. Before long, dad came into the house carrying my now three-inch plant. With the sweetest optimism, he simply said, "Di, it's not gonna grow very well out there."
To my dad, it didn't matter what I was growing, only that I planned to grow it well. My father, mother and all of our rural neighbors taught me how to be a partner with nature. That knowledge and understanding may be their greatest gifts to me.
From the day I germinated that seed, I knew my green thumb was destined for greatness. Growing medicinal cannabis, however, was never my goal. Fortunately, ACMPR, Canada's most recent legal cannabis program, now includes a provision that allows patients with a doctor's recommendation to grow medicinal cannabis at home.
STEP 1: SECURING A DOCTOR'S RECOMMENDATION
A physician's blessing, however, can actually be difficult to obtain. A patient must find a doctor who is willing to assess her diagnosis and correlate it to an ever-growing list of Health Canada approved conditions.
In April 2016, Canadian Health Minister Jane Philpott spoke to the United Nations General Assembly reiterating Canada's electoral promise to legalize cannabis for medical and recreational use. Before spring 2016, if a patient's family physician didn't "believe" in the medical benefits of herbal flower, it was difficult for a patient to receive an assessment.
Many doctors still fear they will be stigmatized
for recommending "home grow" medicine.
I've counseled many patients whose doctors have refused to discuss cannabis and have actually charged patients to release their files to be assessed for this safer medicine. My own GP (general practitioner) was unwilling to prescribe cannabis for me. He gladly provided a written diagnosis, so I could be assessed at any one of the 30+ Cannabis Clinics. Staffed by medical professionals familiar with strains and dosing, Cannabis Clinics give traditional physicians a place to refer patients.
Previously when I worked at a cannabis clinic, patients who couldn't physically come to the clinic would ask if doctors could Skype with them. At that time, remote assessments were not permitted. Now clinics can assess patients in their homes! Recently, one of my loved ones was assessed at his kitchen table. The assessment was free through his health insurance. How far we've come so fast.
"I self-medicated for 15 years before a Cannabis Clinic doctor prescribed cannabis for
me–a visit that was covered by Canada's awesome provincial health insurance." 
STEP 2: COMPLETING THE ACMPR APPLICATION TO GROW MEDICAL CANNABIS AT HOME
The ACMPR application is seven pages long. And it's not an easy read. For a full 30 minutes, I sat pondering the very first question. No wonder why so many applications are rejected! With the application, a patient must submit an original "medical document" or prescription. If an existing prescription was previously submitted to a licensed producer, that prescription will not be accepted with an application for Health Canada's personal cultivation program.
After completing the lengthy application, I mailed it off with my original "medical document" from the Cannabis Clinic doctor to Health Canada. And then I waited patiently for one month. Then two, three and four.
STEP 3: SETTING UP THE NURSERY DURING THE DELAY
1. Prepping my space, like an expectant Mother Nature
To start my cannabis growing process off right, I talked to a local botanist at a hydroponic/organic growing store. There I bought grow lights, nutrients, Mylar® and specialized soils. I recommend investing in "living soil" to grow the herbal flower. Living soil runs about $20-$35 per cubic foot and is prepacked with nutrients and microorganisms. (Just add water!) "Head shops" also sell some nutrients for growing cannabis.
When I met with a garden expert, I was very honest about my budget. I didn't want to drop a bundle and not see it balance out in the end. To save money while growing cannabis, I suggest shopping at a hardware or big box store for regular soil, vermiculite, perlite, root stimulator, spray bottles, planters and more.
2. Plotting out my cannabis-in-a-closet plan
Here's how I turned a nearly 8′ x 2′ (2.4 m x 60 cm) space into a cannabis nursery/garden oasis:
From the closet rod, I hung two bread-box sized 150-watt grow lights, which can be raised as the plants grow.
Covered the walls and inner sides of the sliding doors with shiny Mylar to mirror light, so my green goddesses could feel lumens on every leaf.
Scrubbed the floor then laid down a sheet of Mylar to reflect light up into the lower branches.
Installed a fan at either end of the closet to bring on breeze, which will make for stronger and more resilient plants able to produce more cannabinoids and terpenes.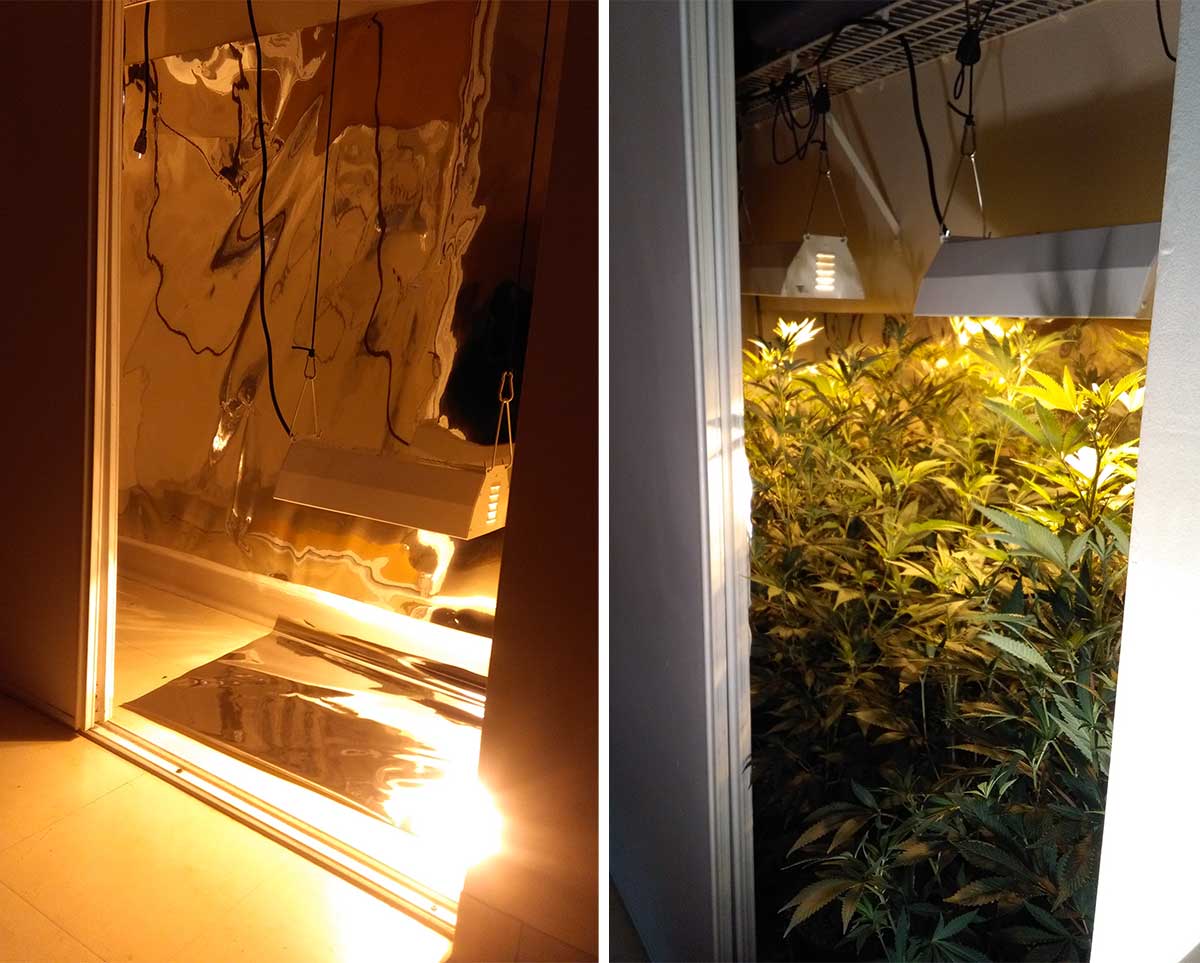 STEP 4: LICENSING AND REAPPLYING
After five months, my license finally arrived. I am now legally approved to cultivate 25 plants as long as I grow them inside my eighth-floor apartment. My plant total is based on my dosage—every gram of prescribed dried cannabis translates into five indoor plants. My license is valid until July 28, 2018. Just to be safe, I'll begin the renewal process early in the new year to keep my crop up and running.
STEP 5: CHOOSING A STRAIN FOR EVERY REASON, EVERY NEED, EVERY SEASON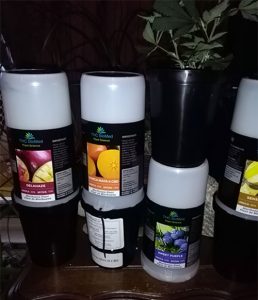 Currently, I treat my depression with medical cannabis. I suspect that growing my own medical cannabis may be healing in and of itself. My ever-populating house plants will remind me of the good in life. Seeing something grow from my own efforts will make me more hopeful. The wonder of botany at play will lift my spirits and quell those negative thoughts.
With a bit of TLC, cannabis plants grow as vigorously as weeds. Imagine perfect two-, three-, five- and nine-fingered leaves multiplying overnight! I can't wait to explore different growing methods, mediums and tie-down or cropping techniques.
Do I train a cannabis plant into a Christmas tree? A menorah? What great photos these would make to share with friends, since my green girls cannot travel away from my residence for the holidays.
I plan to get a lot of good out of my 25 cannabis plants.  Some will flower. Some will vegetate. Others I'll harvest to eat. (A leaf a day keeps the doctor away, correct?)
Come along with me on my Home Grow journey. In an upcoming blog, I'll talk cost and strains and further examine legal sources for seeds and clones.

– Dianna Donnelly
Dianna Donnelly is a cannabis educator, blogger, and freelance writer living in Kingston, Ontario. She counsels new patients on the safe and effective use of medicinal cannabis and believes that with enough time, cannabis, and coconut oil she can heal the world.
Introducing The Cannabis Podcast: Cultivate with Scott Swail and Drew Emmer
First things first. Scott is the young guy. Drew is the self-ascribed old guy. (And Luke Chase is the on-air producer/line judge for Boveda's new cannabis podcast, Cultivate.)
In their first Cultivate episode, Drew and Scott address:
Why it matters if your flower is dry.
What if you like dry flower.
And what that intense aroma when you open a bag of dry buds is really telling you.
Plus you'll delve into medicinal marijuana with Melissa Rolston, host of The Cannabis Report on The Todd Shapiro Show (SiriusXM Channel 168).
Subscribe to the Cultivate podcast on the Boveda Cannabis YouTube Channel or on iTunes.
Keep It Fresh
Once cannabis trade show attendees get to the Boveda booth, Boveda's master sideshow barker, Drew Emmer, and account manager, Scott Swail, show folks how Boveda, the global leader in 2-way humidity control, makes (and keeps) flower fresh.
Cultivator's first guest, Melissa Rolston, met Drew and Scott at the 2017 Lift Cannabis Expo in Toronto, Ontario. Melissa gained prominence after she was a featured in the Forbes article Cultivating Women Leaders In A Growing Field: A Conversation With A Cannabis Social Entrepreneur by Shavon Lindley. Turns out Melissa is a huge proponent of Boveda.
Come along with Drew and Scott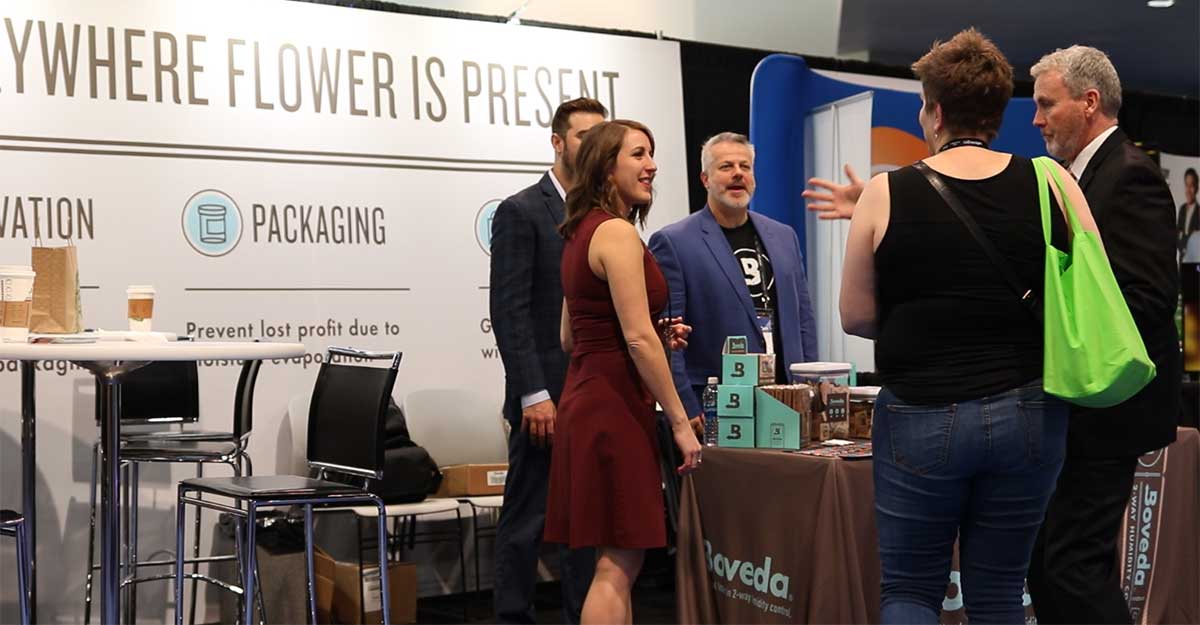 Scott and Drew take Boveda on the road to more than 35 cannabis trade shows a year.  In 2017, they've been everywhere, man, from New West and CWCB Expo to Imperious and CannaCon. At each show, Drew and Scott search out future Cultivate guests (like Melissa). And educate cannabis lovers and producers about why Boveda is a necessary player in the medical marijuana industry.
But not everyone is a Boveda believer right away.
"A guy at a Vancouver show just wasn't convinced," Drew admitted. "So we said, try Boveda. Just try it."
The naysayer returned the very next day a changed man with changed cannabis. That's the beauty of Boveda. Within hours (sometimes minutes) Boveda can rejuvenate buds by restoring the color, flavor, aroma and sponginess. Got some dried out MJ of your own? Just drop in a 4 gram Boveda in up to ½ oz. of flower and prepare to be amazed.
"Dude, you are so right. My flower is way better."
– Boveda convert (Can we get an amen?)
Drew explained nearly everyone's weed is dry—especially if you live in Las Vegas, central California, Scottsdale or other parched climes. That arid air just sucks the moisture right out of cannabis. "You'll get a harsh smoke that burns your throat," Scott added.
How to keep your cannabis sweet smoking
Store your flower with Boveda, which reacts to and controls the environment that it's in—whether you live in the high desert or high humidity. Boveda releases pure water vapor to bring marijuana up to a precise relative humidity (RH) level then locks it in by adding or absorbing moisture. For cannabis, Boveda comes in two RH levels—58% RH and 62% RH. Just toss in Boveda and it does all the work.
 
Will dry cannabis hurt you?
No, but dry cannabis won't help you much either. The flower loses its potency when it isn't properly humidified with Boveda. When your trichomes disintegrate, so do your healing and heady benefits. Trichomes are the spikey hairs on your flower that contain THC (tetrahydrocannabinol), CBD (cannabidiol) and other active medicinal cannabinoids. Preserving trichomes also preserves terpenes, the oils that give cannabis its favored taste and smell.
For medical marijuana patients, storing flower with Boveda protects the medicine's effectiveness Melissa said. A medical cannabis patient herself, she advises other patients about appropriate storage, strains and dosages. She's a liaison between the patient and the physician, who may be new to prescribing cannabis.
Boveda Protects Every Slice-A New Cannabis Cigarette From Toast™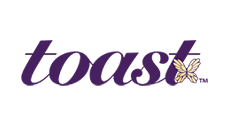 Yet another cannabis industry innovator has entrusted Boveda to keep its products good and fresh. Recently, Toast™ unveiled the first professionally manufactured cannabis cigarette, the Slice™. Inside each Slice pack is a little bonus—Boveda. Boveda's 2-way humidity control precisely regulates oft fluctuating moisture that can take down even the best cannabis.
Slice gives a marijuana novice peace of mind and a cannabis
connoisseur a new, haute way to indulge the hobby.
What's in a cannabis Slice?
High-quality strains
Measured potency
Expected after-effects
Slice regulates cannabis for the adult rec user. Each Slice of Toast contains a proprietary, all-natural, tobacco-free 100% cannabis blend inside a slow-burning hemp paper tube with a specially designed filter. Slice strains are low in THC (euphoria) and high in CBD (active calm). With Slice, smokers know what to expect—a refined, smooth controlled experience.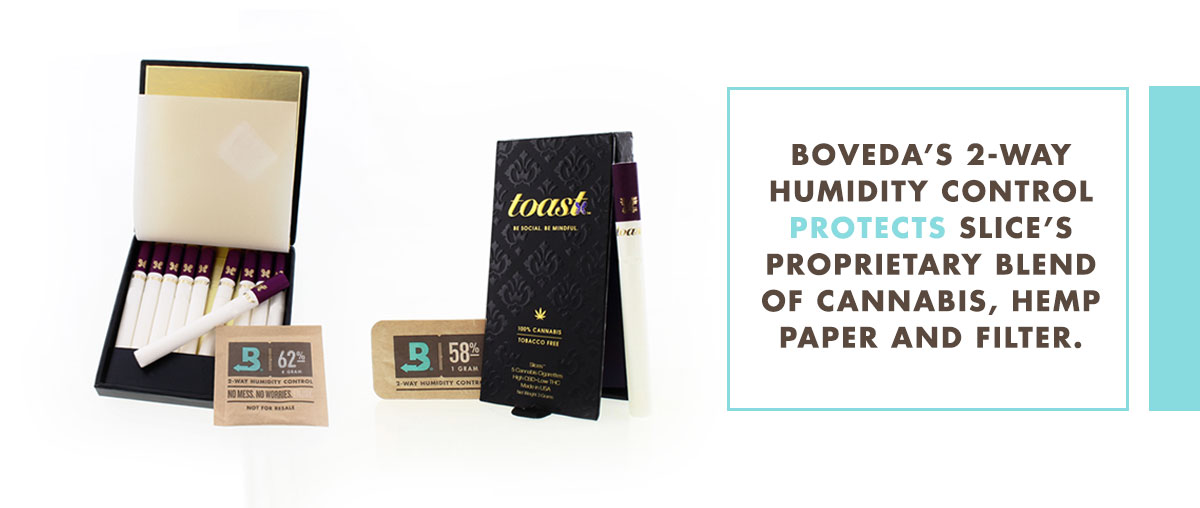 What sets Toast apart?
Cannabis is becoming a big business. In 2016 alone, the U.S. saw $6.7 billion of legal cannabis sales, and in 2017, the state of California is expected to reach that number by itself, meaning there is huge and very fast paced growth in this budding industry. And because of that, more and more producers are rushing into the market developing and selling heavily potent, mind-altering marijuana.
Toast had a more refined vision for cannabis—a highly curated strain that's measured and dosed, ultimately providing predictable potency. But marijuana is like any other plant. The minute it's clipped, it starts to dry out. And when it dries out, it loses its potency. Boveda ensures that the last Slice in a pack is as fresh as the first. Boveda adds and absorbs moisture to lock in a precise relative humidity (RH) level that's perfect for cannabis. Perfect for Slices.
Where is Toast Available?
Currently Slices are only available in select Colorado dispensaries in packs of 2, 5 and 10. (Tourists reminder: it's illegal to transport cannabis out of Colorado, even in the form of a Slice.)
For more information about Toast, please visit www.WeToast.com. Must be 21 years of age or older.
Organically Grown Cannabis Goes High-tech with ABcann
Cannabis growers strive to create a perfect environment for their plants. They prepare a growth medium that encourages health and the abundance of their bounty; many shun pesticides and chemicals. Then they turn their focus to the plants and their daily evolving needs.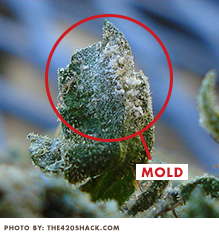 Sometimes growers do their jobs too well. That tender loving care nurtures other organisms that may or may not encourage the health of plants. This is nature. This struggle is real for cannabis growers–legal or otherwise. One fungal disease called Powdery Mildew is the bane of their existence. Fuzzy white blemishes on cannabis plants can take down a plant overnight, quickly take over a crop and even ruin an entire harvest.
Whether growing cannabis indoors or out, ongoing battles with microorganisms, varying cannabinoid ratios and fluctuating terpene levels all result in inconsistent outcomes. And inconsistent outcomes are what growers, as well as medicinal marijuana patients, strive to avoid.
Consistency in medicinal cannabis is vital to:
Ensure predictable therapeutic benefits
Avoid drug interactions, especially for senior patients new to medical cannabis
Predict the length of effect for chronic pain patients who must maintain a clear head while on the job
How can producers better control their outcomes? A Canadian Medical Marijuana Licensed Producer (LP) thinks it has the answer. ABcann uses technology to organically grow cannabis that is chemical and pesticide-free.

ABcann strives: "To deliver consistent, standardized medicinal cannabis that the public and patients can consistently rely on."
There's an adage that says, "The farmer's eye fattens the cow." In other words, if a farmer invests time getting to know each animal she raises, that farmer will produce better results. And ABcann really knows its marijuana.
How ABcann perfected large scale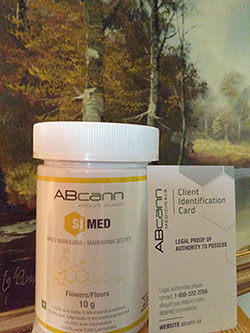 Everything that enters ABcann's premises is tested for contamination and swiftly made sterile. Every drop of water, every grain of soil and every single aspect has been considered.
ABcann has also developed technology that produces cannabis harvests that are identical in both yield and potency. ABcann partnered with the Controlled Environment Systems Research Facility (CESRF) at the University of Guelph in Ontario, Canada, to create computer-controlled optimum growth environments.
Studying the plant using precise tracking systems, ABcann and CESRF developed an exact "recipe" for successful growing. By replicating that same process with precision, they can replicate outcomes. And tailor its process for specific stains. Plant output soars using ABcann's technique, which pays off in every single harvest.
"Everything from air quality, CO2 levels, oxygen levels, water quality and volume, light spectrum and cycles, temperature and humidity, plant nutrition and the curing process is monitored and adjusted by computers," according to an article about ABcann's proprietary growing system.
How standardizing cannabis will benefit patients and healthcare providers
 Medical professionals who advise cannabis patients often discuss varying strengths of batches and harvests to assist those patients with titrating dosages. Standardizing herbal medicine will take out the guesswork for physicians, counselors and patients. ABcann's consistent cannabis products will allow a patient's dose to remain consistent if needed. No matter what harvest the medicine came from, the cannabinoid consistencies and ratios will be the same.
Achieving precise cannabinoid and terpene ratios sets up ABcann for success in the cannabis oil market too. Now that Canadian LPs can acquire a license to make and sell cannabis oils, they will become mainstay medicine for many Canadian patients. Some patients will undoubtedly bounce from one inconsistent producer to another. The patients who start with ABcann will stay with ABcann. The quality, consistency and ample supply of ABcann medicinals are crucial to manage illness.
How standardization will help meet the demand for legalized cannabis
Canada is on the verge of legalizing marijuana for adult recreational users. It's estimated the number of cannabis users will jump from about 120,000 legal medical users to several million adult recreational users. This influx of users vying for an already shaky supply of herbal medicine worries current patients. High demand is why ABcann's standardized cannabis production is so important. Controlled growing, curing and harvesting will make it possible for LPs to supply cannabis at scale.
How Boveda protects cannabis with controlled precision
Increased demand will mean increased supply. Increased supply will mean more patients, providers and producers must learn how to properly store marijuana. ABcann relies on Boveda, the global leader in 2-way humidity control. Boveda uses natural salts and purified water to control the amount of moisture it absorbs from or adds to the flower then locks in a precise relative humidity (RH) level.
ABcann packs its orders with Boveda. Inserting Boveda into a container, such as a prescription bottle, CVault® or Re:stash™ keeps the flower fresh and preserves its therapeutic effects.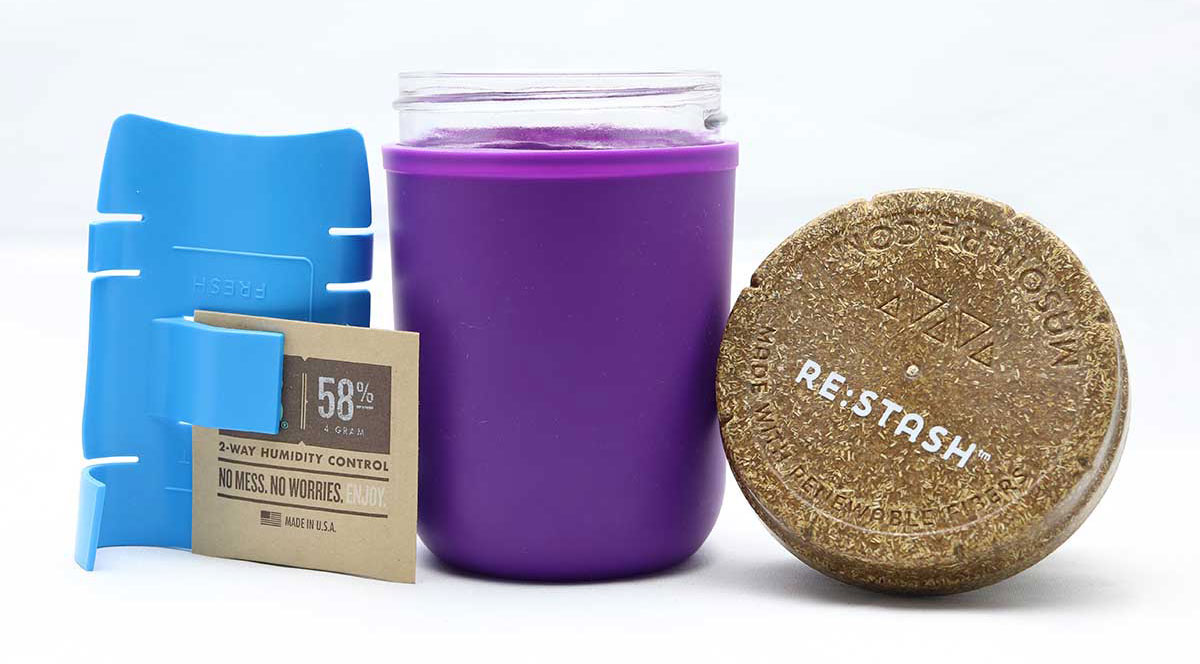 Without Boveda, marijuana dries out too much, which breaks down its terpene content. Terpenes are the organic compounds responsible for the plant's unique medicinal properties as well as the distinct taste and aroma found in its essential oils.
Adding too much moisture in the form of wet cotton balls, damp paper towels, orange peels, etc. over humidifies marijuana. Medical marijuana patient shouldn't risk using moldy flower.
If ABcann, the high-tech LP that precisely controls every aspect of growing cannabis preserves the consistency of its marijuana with Boveda, shouldn't everyone?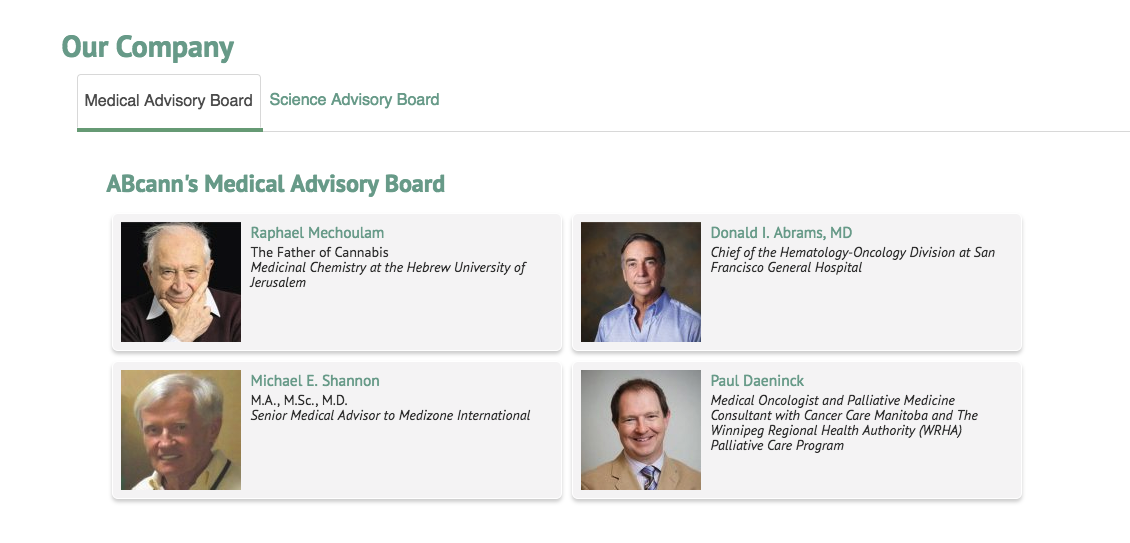 -Dianna Donnelly
Dianna Donnelly is a Cannabis educator, blogger, and freelance writer living in Kingston, Ontario. She counsels new patients on the safe and effective use of medicinal cannabis and believes that with enough time, cannabis, and coconut oil she can heal the world.
Melissa Rolston and Boveda
Meet Melissa Rolston
You just never know who you might run into at a trade show. Lucky for Boveda, our own Drew Emmer weeded through the cannabis crowd to chat with Melissa Rolston at the 2017 Lift Cannabis Expo in Toronto, Ontario. Turns out Melissa Rolston loves Boveda, the two-way humidity control that keeps cannabis fresh.
Drew and Melissa got to talking and here we are. Now Melissa hosts a weekly show for Boveda to shed light on cannabis country. She'll cover topics such as:
Marijuana prohibition
Cannabis stigmas
Medical cannabis breakthroughs
Patient growing versus commercial growing
In August, Melissa was featured in the Forbes article Cultivating Women Leaders In A Growing Field: A Conversation With A Cannabis Social Entrepreneur by Shavon Lindley.
This rising star in the cannabis world was a photographer before she came into the medicinal marijuana field. Melissa took the role as an executive assistant for a licensed medicinal cannabis producer and never looked back. She's worked dispensaries, one-on-one with patients and as a liaison between physicians and patients.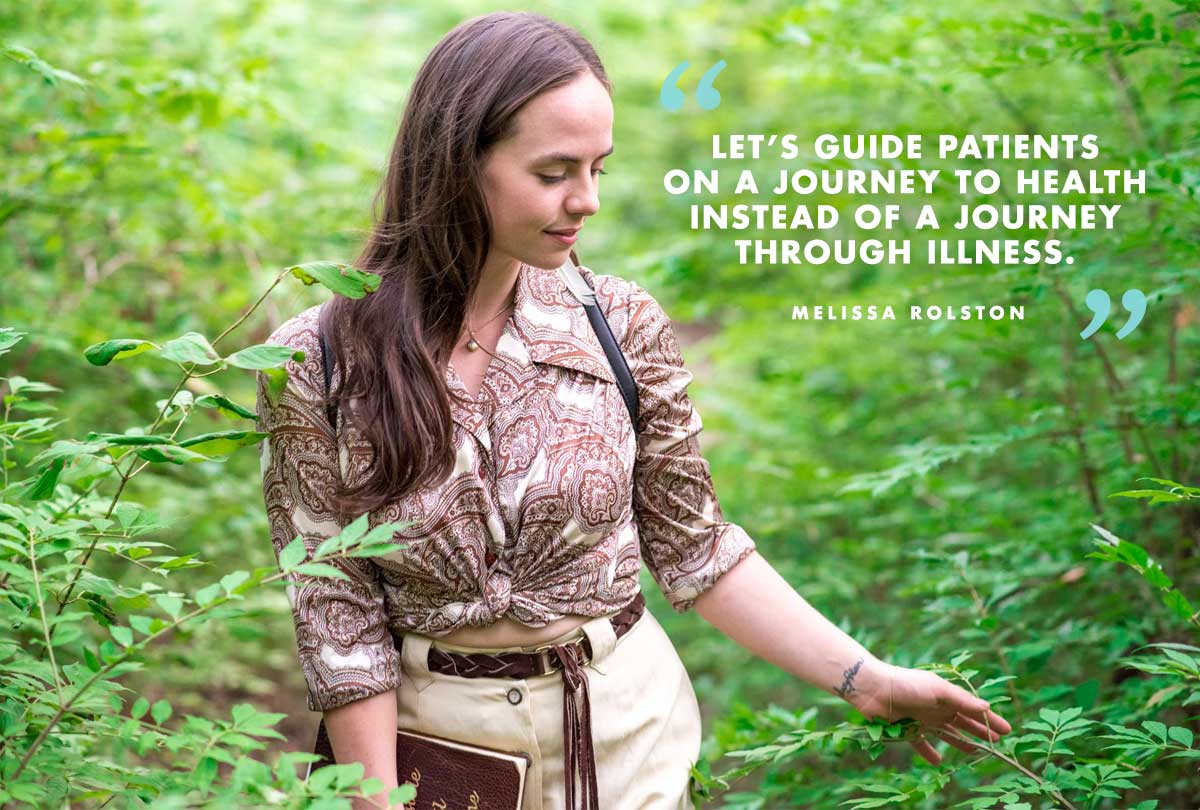 Melissa also co-runs Women Grow, which holds networking events for cannabis industry professionals in Toronto. And she started her own company, TeamMD, a virtual, full-spectrum medical education company with her mother Sandy Rolston, who is also a nurse.
The duo hopes to redefine the patient care experience through education, compassion and lifestyle choices.
"While dealing with chronic pain or any degenerative disease it's difficult for patients to feel empowered. We work with patients in order to turn those 'I cant's' to 'I can,'" a recent TeamMD post said.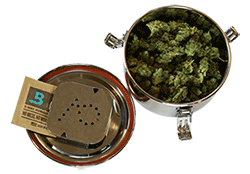 Boveda keeps cannabis healthy
Holistic therapies and medicinal marijuana may be part of that health journey. To complement a patient's well-being, Boveda helps cannabis retain its therapeutic properties and terpenes. Boveda slips right into a cannabis storage container. While inside, Boveda uses natural salts and purified water to absorb or add moisture to lock a precise humidity level that keeps marijuana fresh.
Boveda Debuts The Cannabis Report with Melissa Rolston
The cannabis industry is sometimes a bit hazy and hard to maneuver. Laws change. Medical approvals evolve. Restrictions are lifted (or slammed down). Get your news on the flower every week from Melissa Rolston on The Cannabis Report sponsored by Boveda. Halfway into this debut episode, Boveda's Drew Emmer makes a special guest appearance.
Watch as Melissa Rolston tackles the burning issue, "How do you say, 'I bought my weed' without justifying your cannabis purchase?" (But it was legal. At a dispensary. And I was in Colorado. Sound familiar?)
Catch every episode of The Cannabis Report by subscribing to the Boveda Cannabis YouTube Channel. You can also watch live every Monday at 4:20 pm EST on The Todd Shapiro Show (SiriusXM Channel 168). The Cannabis Report is sponsored by Boveda.
Your Cannabis Buds Deserve Boveda
A few months back I wrote an article: about these crazy little Boveda that come with my cannabis orders from a legal LP.  Fast forward to today and I now promote this product to anyone and everyone who will listen because I know that Boveda adds value to my life.  Looking for ways to stay up-to-date on how Boveda can add value to your life? Follow Boveda here: Facebook, Twitter, Youtube & Instagram.
 Here's Why I Love Boveda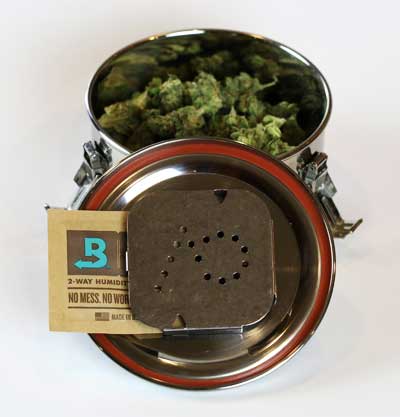 Back in the day, smokers kept their stash wherever it would be safe. I remember helping a friend tear off squares of foil to wrap one gram nugs in so she could ration her use. Foil doesn't keep anything fresh–especially not cannabis!  But as we age, we learn. As we better understand cannabis, we see the value in preserving buds in air-tight containers or bags.
Cannabis begins to degrade the minute it's cut down.  First to go is the moisture and depending on the aridity in your drying room, some of the plant's natural lipids will degrade as well. Suspended inside these lipids and waxes in a structure known as a trichome are terpenes, aromatherapeutic compounds found in nature. Terpenes are what make the flower stink so sweet, sour, or as pungent as body odor! Tests have shown that when cannabis is left to over-dry, it can lose up to 15% of its terpenes.
Destroying terpenes is just one hazard caused by over-drying. A few of our beloved cannabinoids have an acid attached to them in their natural form. The bond joining that acid to the rest of the molecule is very weak. Over-drying can cause the acid to break off prematurely, which can increase the sedative effect of cannabis.  Once the acid breaks off, the flower's THC-a converts into THC. Further degradation can convert THC into CBN or cannabinol. CBN is insomnia's nemesis.
Boveda Keeps Cannabis Good to the Last Nug
Opening a fresh bag or bottle of the Goddess's gift to humanity is one of those really great moments in life. Wouldn't it be great if the last nug of the bag or the bottle were as terpene-rich and pungent as that first nug? You can with Boveda. Boveda controls the relative humidity inside your air-tight storage container to keep your flower fresh.
Cannabinoids and terpenes do best at a relative humidity level between 58% and 62%. Maintain that RH sweet spot and your buds will stay fresher much, much longer. As the global leader in 2-way humidity control, Boveda adds as well as absorbs moisture to lock in a precise RH that's perfect for cannabis. Through a reverse osmosis membrane, Boveda emits purified water vapor to add moisture to parched buds or pulls in any extra moisture via a saltwater solution. The water and salts are as natural as the plant products Boveda strives to preserve.
I've personally been using Boveda for many months to bring back life to some of that less-than-fresh producer cannabis I receive. With Boveda, the smoking or vaping experience is a step above. I can actually taste those natural compounds in my exhale. Now that I can also legally grow my own cannabis plants, I'm eager to cure my harvest with Boveda.
Cannabis is a valuable commodity and most of us will do anything to preserve it for as long as it's in our possession. Boveda makes preservation possible.
– Dianna Donnelly
Dianna Donnelly is a Cannabis educator, blogger, and free-lance writer living in Kingston, Ontario. She counsels new patients on the safe and effective use of medicinal cannabis and believes that with enough time, cannabis, and coconut oil she can heal the world.
What California is Teaching Us About the Impact of Mold
Moldy marijuana isn't safe to consume or smoke. Firing up moldy cannabis distributes—doesn't destroy—mold spores. Trimming off the mold from your MJ doesn't fully eliminate the danger either. When in doubt, throw it out.
Mold is one of mankind's biggest enemies. There are several different types of mold, many of which can make food unsafe to eat and homes uninhabitable. Depending on the type of mold present and the length of exposure, effects may be mild to severe, and can include coughing, trouble breathing, headaches, vomiting, diarrhea, heart palpitations, and infections in the lungs. People with asthma or compromised immune systems are most likely to be affected by mold, and could potentially lead to death.
Cannabis, just like any other type of produce, has the potential to develop mold. While some cases do appear in the cultivation process, the majority come after harvest, either during the drying and curing phase or in storage, when moisture levels are too high. Although most cultivators know how to prevent mold growth on cannabis, that doesn't mean that every crop is perfect. Additionally, if an end user doesn't keep cannabis in a cool, dry place, that stash could also be at risk.
Is Legal Cannabis­ Completely Mold Free?
Marijuana is now legal for medical and/or adult use in 29 states. Each state makes its own rules to regulate cannabis. Because there is no across the board standard, testing for mold and other pathogens can be inconsistent. For example, California currently doesn't have strict statewide testing standards for its medical cannabis. This will almost certainly change in January 2018, when the plant becomes legal for recreational use.
In August 2017, Anresco Laboratories tested several cannabis plant, extract and edible samples, all from the Bay Area. The results, first reported by San Francisco Magazine, were shocking. Nearly 80 percent of the marijuana samples tested positive for some type of pathogen; 15 percent tested positive for mold.
"We weren't entirely surprised given the unregulated nature of the market for so long," Anresco spokesman, Kyle Borland said. He added that while it cannot be certain that this round of testing was representative of the California industry as a whole, the results were still concerning.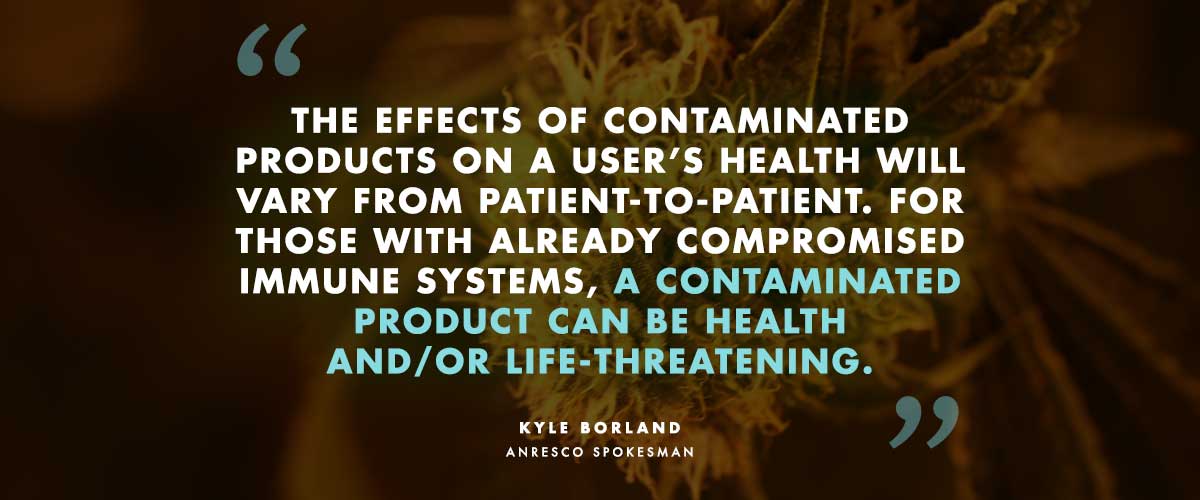 Mold can also cause substantial financial losses for cannabis cultivators. Should a marijuana sample test positive, the entire batch may have to be destroyed. Because marijuana is still illegal at the federal level, many growers do not have proper insurance to cover these losses. This is why cannabis farmers strive to prevent mold in the first place.
"Come 2018 in California, the economic impact will be huge," Borland said. "A contaminated product will not be allowed into the legal marketplace, up to certain levels that we are still waiting to be determined by the state. If a crop/product fails a lab's analyses in 2018, it could throw their whole supply chain into a spiral. Currently, contaminated products garner less of an asking price and many businesses have already begun denying tainted products."
How to Spot Mold on Cannabis
There are several ways to detect mold. In addition to professional lab testing, a visual inspection under UV light can be conducted. Signs of mold can include black, grey, white, brown or yellow spots, spores, fuzz or webbing. For consumers who may have had their medicine in storage long-term, it's important to do a quick mold check before consuming in case of any developments.
Signs of Moldy Cannabis
Dampness
Musty, sweet, and stale odor
Grey or white fuzz
Specks of white powder, like white dust
  Is This Mold on My Marijuana?
If you notice tiny white or cream-colored mushrooms on your buds, those are trichomes, not mold. Trichomes are concentrated with THC and other psychoactive cannabinoids. Boveda preserves trichomes by preventing them from drying up and breaking off while inhibiting mold growth. If there is fuzzy white stuff growing ON your trichomes, that's mold. Mold fibers are much smaller than trichomes.

How to Prevent Mold on Marijuana
As mentioned earlier, cannabis can develop mold throughout various points of its life cycle. When the plant is drying and curing, having a well-ventilated space with plenty of fans is essential. Once the plant is dried, it's important to keep it stored in an airtight container in a cool, dry place. To keep cannabis safe, both producers and consumers rely on Boveda, the global leader in 2-way humidity control. Boveda slips right in with buds to lock in a precise relative humidity level that's perfect for flower. Boveda adds just enough moisture to help cannabis retain its therapeutic benefits while absorbing excess moisture to prevent mold.

Moldy cannabis can be extremely dangerous–especially for medical patients with compromised immunity. Therefore, it's vital that all medicine be tested and stored properly for protection against any and all pathogens.
By Rachelle Gordon
www.RachelleGordon.net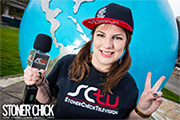 Can I really save $100 per pound with Boveda?
Boveda can save $100 per pound in cannabis moisture loss
For years, cannabis cultivators have counted on Boveda, the global leader in 2-way humidity control, to preserve the quality of their harvest. The ideal humidity level keeps flowers fresh—the aroma, flavor, texture and color.  Without Boveda you risk drying out the trichome resin and degrading cannabinoids and terpenes, too.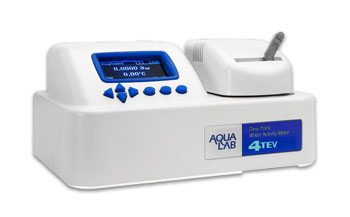 Decreased flower potency and medicinal qualities will cost you customers. Now Boveda is proving how a lack of moisture affects your cannabis profits even more.
The herbal experts at Boveda have been traveling the country with a water activity meter (Aqua Lab photo shown) to do a little Boveda Cannabis Show & Tell. (WHAT A JOB!) During this show and tell, Boveda tests cannabis with companies to help them understand their weight loss. During storage or packaging, unprotected flower can loose 3+% of its weight due to moisture loss. This represents a $100–$150 per pound loss in revenue.
Don't think your cannabis operation is losing you $100/lb?
Neither did the herbal growers who participated in the Boveda Cannabis Show & Tell! Most of the moisture loss was undetectable because of when and where the cannabis grower's state requires weighing.
If you weigh your flower just after curing, your buds may still be plumped up and ready-to-be user happy, but stored without proper humidification en route to and at retail dries out your flower fast. At the point of sale, you'll be supplying less product with fewer healing properties. A loss for both your customer AND you.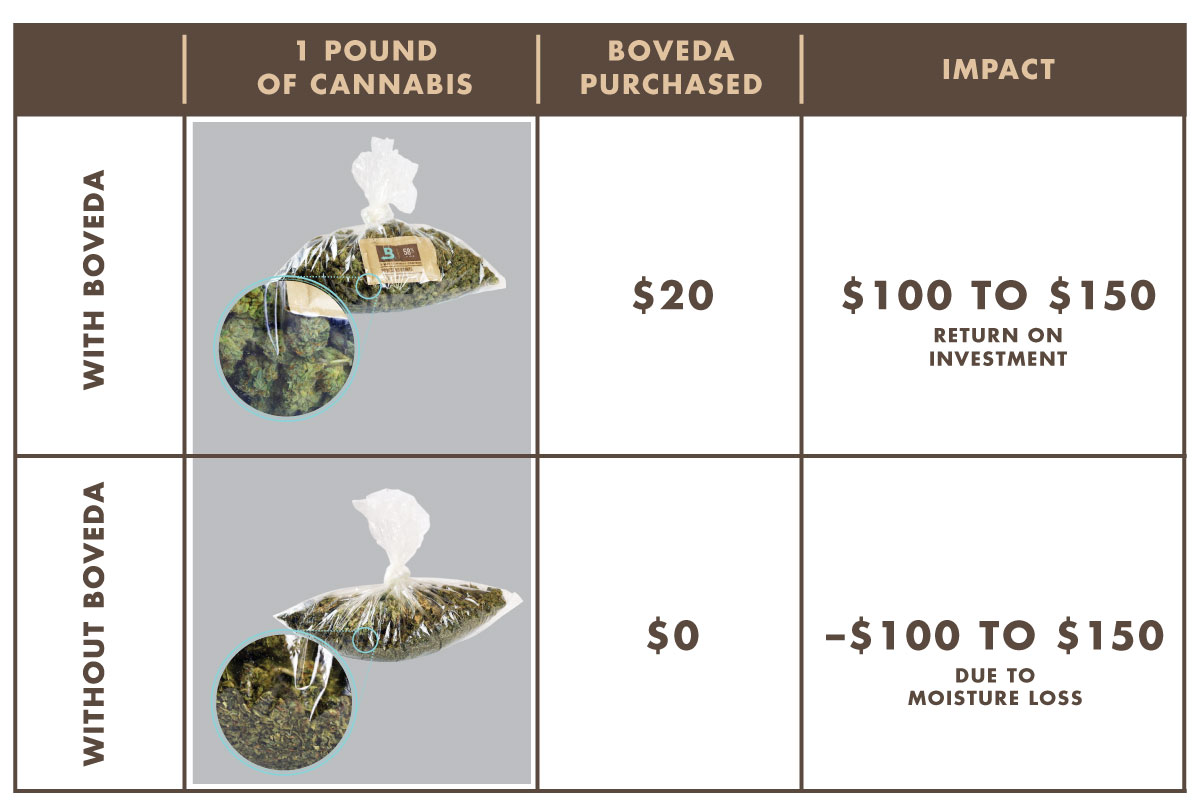 How much can Boveda save you?
It depends on how you break out your average pound of marijuana­–into grams, eighths, quarters, halves or ounces. (Boveda comes in five sizes to protect small and large containers with many other sizes inbetween.)
Investing about $20 every few months will cover Boveda in all final packaging per average pound to completely avoid the ravages of dry air on your hard work. Tops, you'll spend $20 to save $100 in lost product. That's a net average of $80 per pound! What would that do to your cash flow? Your bottom line? Your employees and your future?
Contact Boveda to order and SAVE!
In today's competitive cannabis environment, every gram and every customer counts. Boveda is a quality control program that makes you more money. Business-to-business quantities and pricing are available through our wholesale page, or contact Boveda directly.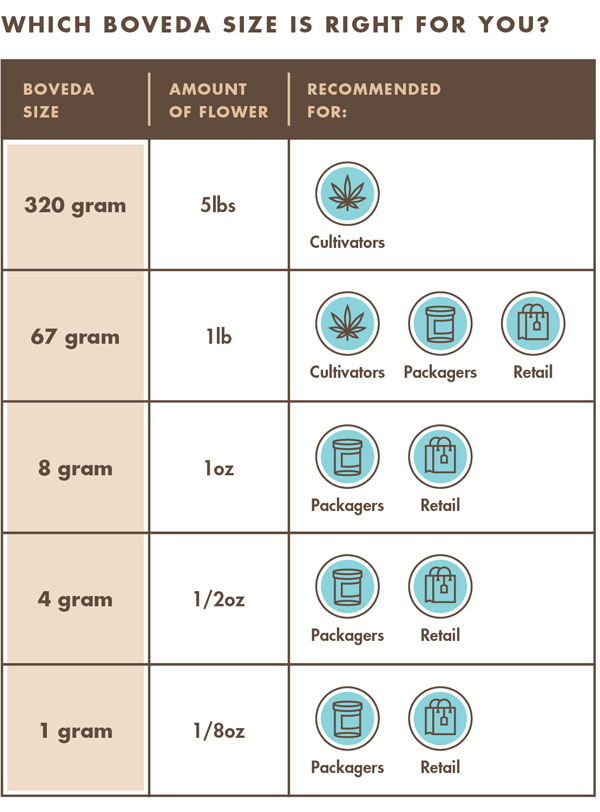 Introducing the 1 Gram Boveda
Protect product after it leaves the dispensary with the NEW Boveda 1 Gram
Those of us in the cannabis industry often find ourselves playing the role of educator as well as cultivator and purveyor. Both medicinal patients and recreational users look to us for advice on strains, therapeutic benefits and quantities.
The latest buzz we should share is how to properly store flower after it leaves our loving care. Whether buying buds or pre-rolls, our customers must properly humidify their cannabis to retain its healing and strong effects.
Previously controlling humidity used to be difficult for smaller herbal quantities—until now. Boveda, the global leader in 2-way humidity control, has created small 1g sizes that still pack a big punch. They're specially sized and designed to fit into smaller flip-top bottles, small plastic bags and the like.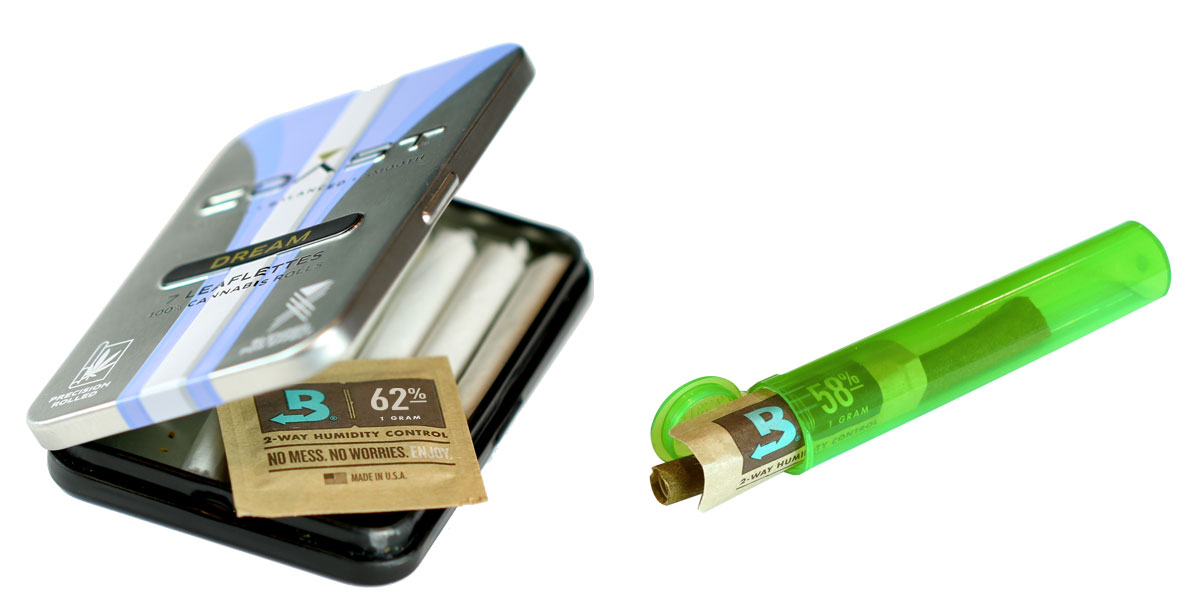 Boveda queried the cannabis packaging community and found that although the Boveda 4g was perfect for up to ½ ounce of flower, the package was just too big to nest in single dose containers. (Too much Boveda wasn't the issue—Boveda can't over-humidify your buds. Using more Boveda than you need just means it will last longer because it doesn't have to work so hard.) But if a Boveda can't fit in a container, a customer is exposing his dosage to damaging humidity swings.
So Boveda scientists went back to the drawing board. After more than a year of engineering, not one but two new sizes for cannabis retailers and customers were designed. Each little Boveda does the same big job of adding or absorbing moisture to lock in a precise relative humidity (RH) that's perfect for cannabis.

Cannabis brands like these are now pre-packaging product with Boveda's new 1g to preserve the quality of their herbals while they are still on the shelves:

And dispensaries aren't just using the Boveda 1g for display. Sellers are sending customers on their way with the 1 grams tucked into tins and tubes, too. It's the smart way to protect product along with reputation. Check out Boveda's wholesale site for pricing and quantities.
This Is Our Craft – MedMen
Does your cannabis pass the smell test?
It's the aroma, as well as the look, that should hit you when you shop for cannabis. See why you should get a nose for good flower according to Josh Shlenker, MedMen Product Procurement Manager for Retail Locations. Boveda's patented 2-way humidity control is used throughout operations at MedMen, a leading national cannabis firm based in Los Angeles.
"Once you lose the smell, you can have the nicest bud in the world but if those terpenes have completely dissipated, and you weren't able to retain any of them, you might as well have nothing."
– Josh Shlenker
Better cannabis through science
Science is amazing! Medicinal growers and the legal recreational cannabis industry are using science to refine, standardize and replicate the therapeutic and psychoactive benefits of cannabis. That consistency is good for all of us.
"Quality matters a lot today," MedMen's Josh Shlenker said. "You can no longer offer marijuana to people not knowing what the strain is, not having it lab tested, not having it properly stored with some way of having it retain the humidity it should have."
Boveda's Relative Humidity (RH) precision ups those terpenes
Boveda's 2-way humidity control allows MedMen to lock in a precise RH level, which prevents buds from breaking down, oxidizing and drying out.
Preserving buds preserves the terpene content of the flower. Nowadays, savvy consumers are tapping into the importance of terpenes, the organic compounds responsible for the plant's unique medicinal properties a well as the distinct taste and aroma found in its essential oils. And rightly so.
A third-party study commissioned by Boveda found a causal relationship between terpene content and humidity. Boveda's precise humidity control enables cannabis to maintain a 58% or 62% RH, which maximizes terpene retention by 15%.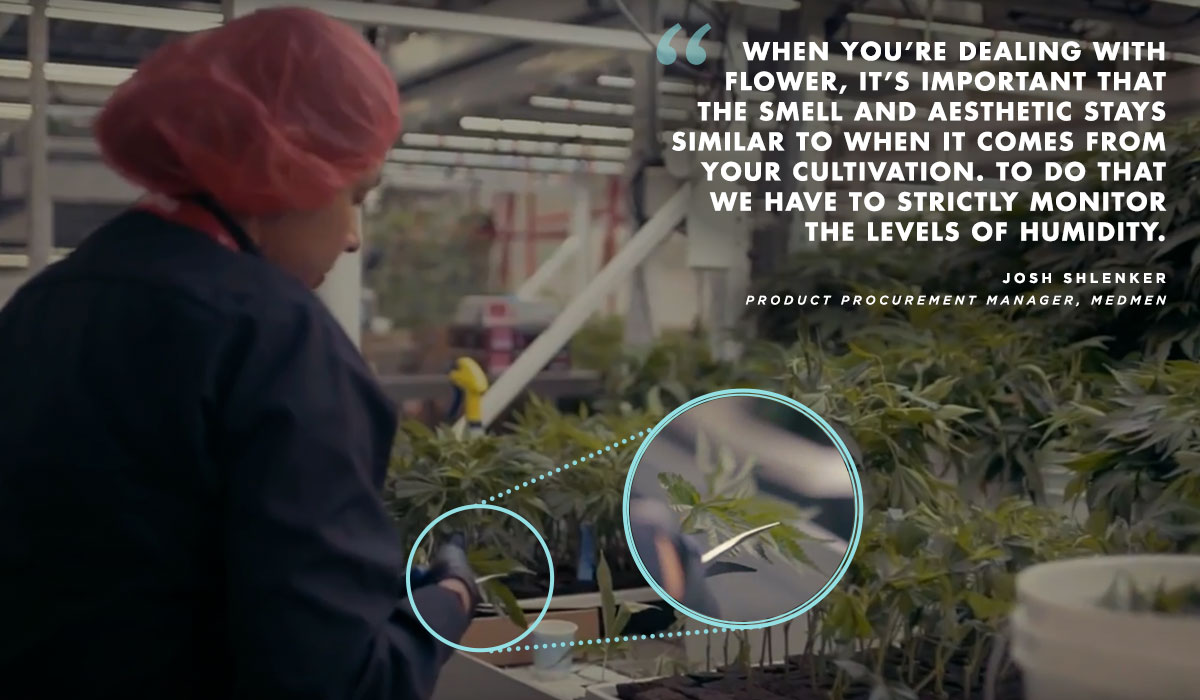 Boveda cares for cannabis from curing to your home
To maintain a optimal RH for cannabis, MedMen even displays each strain with a Boveda as customers shop and sniff their way through the stores. After popping in for a product, a patient should also use Boveda at home to preserve the medicinal qualities of that herb.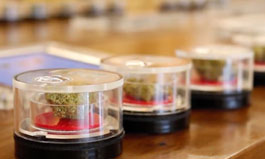 A Boveda just tucks in with cannabis in its bag, CVault, plastic or glass container. While inside, it monitors the ambient humidity and locks in at that cannabis sweet spot. The 2-way humidity control technology allows Boveda to work slowly by adding or absorbing moisture.
How? With natural, food grade salts and purified water. This is good to know, since Boveda comes in contact with the product you're putting in your body.
Read the ins and outs of Boveda's terpene study.
How to Make Marijuana Mainstream – MedMen
MedMen and Boveda Bring Cannabis Out of the Shadows
It's becoming even more important to know where your marijuana comes from and how it's grown. As a savvy cannabis consumer, you want flower you can trust. The cannabis industry is evolving to meet demand as legalization of adult and patient cannabis expands. Leading the charge is MedMen, which takes proven agriculture and cultivation techniques and adapts them for cannabis. Adam Bierman, MedMen CEO and Co-Founder, sheds light on how MedMen and Boveda are working together to shape today's cannabis market.
1) Why is consistency important for cannabis?
Choosing the blend that produces your desired outcome is key for both a cannabis patient and the recreational consumer. Consistency gives you the freedom to pinpoint a strain that's right for you and ensures you can experience its effects again and again. With Boveda, MedMen maintains and locks in a precise RH that's perfect for cannabis—through drying, curing and storing. For you, Boveda preserves the healing (and heady) properties of your cannabis.
2) Why does replicability matter to cannabis?
There are so many variables that affect the production of your cannabis—light, temperature and moisture, just to name a few. As more and more states legalize marijuana for adults and patients, cannabis will need to be grown in a safe, systemized way to meet demand. MedMen's controlled and professional cannabis production is designed for large scale. This rollout is dependent on Boveda's patented 2-way humidity control. For you, Boveda means more plentiful, trusted product.
3) What's coming as marijuana becomes more mainstream?
Gone will be the days of scoring marijuana out of some guy's basement or slinking into a cold clinical setting. MedMen wants you to buy flower, like, well, flowers. At MedMen's sleek West Hollywood Dispensary, you can explore the product you're buying in a space you'll want to stay awhile. As you shop, you'll notice a Boveda protecting each flower in specially designed marijuana containers. For you, Boveda let's you experience the look and smell of the flower before you lay your money down.
Boveda takes cannabis from the grown, to on the go
Boveda is now available in 1 gram (1,500 count cases) to protect your take-along bud. Just slip in a 1 gram Boveda with up to 3.5 gram of flower. Mini Boveda works like a giant to add or absorbs moisture. Boveda's patented 2-way humidity control locks in a precise RH and keeps it there. Depending on your climate or your preference, choose either 58% RH and 62% RH.
Coming Together for Cannabis – The Aurora World Tour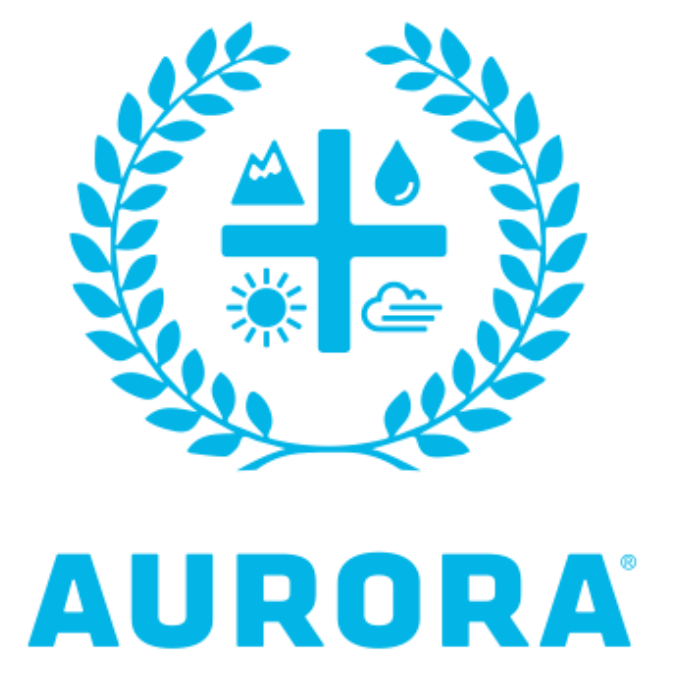 When you picture a company conference what do you see–trust falls, get-to-know-you bingos and stilted chitchat? What if it were a gathering of cannabis professionals? Come along with Dianna Donnelly as she takes Boveda customers inside her company conference AKA the Aurora World Tour.
Coming Together for Cannabis
I work for a counseling service that was acquired by Aurora, a licensed producer of cannabis based out of Cremona, Alberta, Canada. Recently, my colleagues attended the Aurora World Tour in Calgary, Alberta. Twenty-four satellite offices that operate under the name Canvasrx joined together to do what many other companies do—learn more about their team, their place in the industry and their connection to each other.
We just happen to work in the medicinal cannabis field.
"We are the people who help patients find relief through medical cannabis."
We talked shops and strains
Just like many medicinal cannabis patients, practitioners often feel stigmatized by other's perceptions of this plant. It takes a strong individual to work in this industry—and I met a lot of them at the Aurora conference. Terpenes and trichomes are our company lingo. We were able to talk loudly and proudly about cannabis. What a freeing experience!
I'm used to grassroots, tree-hugging activists raving about that which we love. At the Aurora World Tour, however, I was among cannabis professionals. We are the people who help patients find relief through medical cannabis. Help them cope. Help them heal. It solidified the pride I feel to be part of this growing industry.
We envisioned the future of herbal medicine
Aurora CEO Terry Booth and the entire upper management team showed us where they came from, where they're going and asked us to come along. They introduced us to the great minds at Pedanios, the German company and their founders. (Incidentally, my co-workers and I unknowingly shared a plane with them from Toronto!) Insurance in Germany covers the dispensing of medical cannabis in pharmacies. This gave us all hope that Canada too will soon get with the program. We heard about some groundwork being set in Australia by the team as well.
"…it's all but impossible to visually profile a cannabis-user or supporter these days."
We united, ready to power on
I've said it before–it's all but impossible to visually profile a cannabis-user or supporter these days.  We are everybody!  Many of us were meeting in person for the first time at the conference. It was a chance to put faces to names. For those of us in the clinics, who work the faxes and process daily applications, we saw how we fit into the company as a whole.
This company grows my medicine and medicine for thousands of other patients. Aurora was the first to show me a certificate of testing to ensure the quality and efficacy of my product. While other producers offer only THC strains without a speck of CBD, Aurora has never wavered in its supply of strains containing both crucial cannabinoids.
I understand more fully why Aurora is the leader in producing superior medical cannabis. I saw firsthand that everyone at Aurora—from staff to the CEO—feels the heavy weight of responsibility for the patients who rely on our product and service.
CEO Terry Booth said, "It's more important to serve an existing patient than it is to register a new one."
That really spoke to me—as a patient and someone who counsels patients. In fact, the entire room lit up with applause. Every one of us recognizes the importance of steady accessible supply of medicine.
After seeing the significance of my role in the company and the industry, a new understanding arose in my core. I now feel a part of something bigger. Something that is literally saving lives. Soon Aurora will provide seeds and clones, which will allow patients to heal themselves and experience the wonder of horticultural therapy. Just the latest way Aurora will serve humanity and share the healing power of nature. I'm raring and ready to go.
Written by: Dianna Donnelly
Dianna Donnelly is a cannabis educator, blogger, and freelance writer living in Kingston, Ontario. She counsels new patients on the safe and effective use of medicinal cannabis and believes that with enough time, cannabis and coconut oil, she can heal the world.
What Makes Boveda the Only Precision Humidity Control?
Two-way Humidity Control means the same thing to us today as it did when we patented the packaged version 20 years ago: The ability to add and/or remove moisture and still maintain a specific Relative Humidity (RH). It means acting on the environment instead of being at the mercy of it. It means specificity, reliability and predictability. 
But recently the term 2-way humidity "control" (or regulate) has been dumbed down to include the crude releasing or absorbing of moisture, whether the contents of your container needs it or not.
Think of your remote control. Would you be happy to punch in "62" and the TV goes to 80? No, you'd chuck the remote out a window with no concern whether it was open. If you set your thermostat to 68 in the summer but the furnace fires up, you'd make a thermostat-sized hole in your wall. Both those examples are analogs to what you get from non-Boveda 2-way humidity "control". "Good enough" is satisfactory for some people. But not for us. And not for your valuable cigars, guitars or cannabis.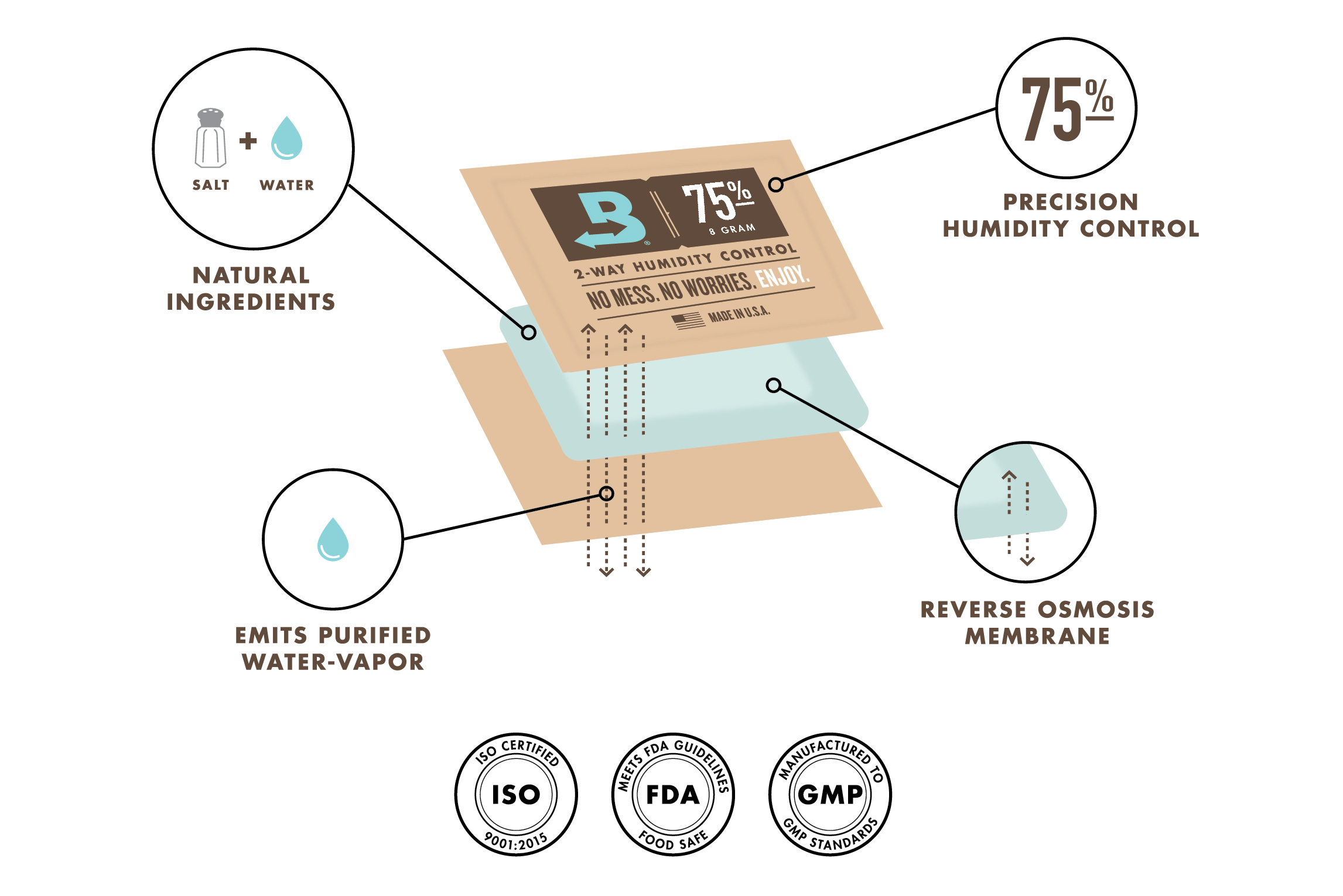 What's the not-so-secret ingredient only Boveda has patented to provide precision humidity control?
Salt. Science has known for 100's of years that a saturated salt solution is the only way to provide the capacity to add and/or remove moisture and still maintain the specific intended RH. Boveda patented the packaged version of that science. Without salt, any humidity "control" only has a starting RH that changes wildly as soon as it gives up or absorbs water. That's not specific, reliable or predictable. 
Boveda's natural, food-grade salts are the brains that know when to absorb and when to release purified water vapor. It's why you'll only find Boveda in the cigar boxes of leading cigar makers and the packaging of the biggest cannabis brands. Boveda means precision.
No salt = no precision humidity control.
Redefining the Standard for Quality Cannabis
What does it mean to have a quality product?
Or does quality even matter anymore when there's a $ store on every corner?  I believe that like everything else in the world, the definition of quality is relative and subjective and thus can be mere personal preference.
Yet for those of us who strive to define or redefine quality, the game still rages on.  A higher quality product draws a higher monetary value and there is almost always a bidder for every level of quality.  So in the world of Cannabis, what makes a quality flower?
In my opinion the four main factors in the creation of Cannabis that directly affect its quality are genetics, growing, trimming/curing, and preservation.
Genetics:
Genetics encompasses so many things, more every day as technology sharpens.  Heirloom or GMO?  Do you use feminized seeds or do you prefer to play "where's waldo?"  The genetics of a Cannabis strain also identify the expected cannabinoid ratio of the plant as well as the terpene make up if grown to optimum health.  A strain's genetics decides its smell, taste, and potency as well as how it affects you and your biology.  It could be argued that genetics are the #1 factor in deciding the quality of Cannabis.
Growing:
A seed with superior genetics can still rot if left to sweat while germinating.  Careful attention to detail is the gardener's best tool and knowing what to look for takes time and practice. And a bit of failure too.  Many a gardening genius has suffered the woes of lost ladies in the throes of flowering.  Fertilizing, watering, light distribution, these are all things that must be managed daily or even several times a day.  Fans, C02 machines, ladybugs for spider mites!  The umbrella of products and techniques that growing Cannabis encompasses is vast to say the least.  I believe it could also be argued that how Cannabis is grown has the most effect on its quality.

Trimming and Curing:
How much leaf is too much leaf to hug your glistening nug?  For some, trimming means everything and the hours perfecting some trimmers' techniques leave them with aching hands and sticky fingers.  I'd trim all day long for free if I could take the latex gloves home with me!  It seems like the trim is all about aesthetics. But it can also be about taste and experience since smoked or vaped flower definitely tastes different than leaf.
A well-cured nug of Cannabis can mean the difference between a head ache and pure herbal bliss.  Proper curing is a time-consuming yet crucial oft-skipped step in the creation of quality Cannabis.  After proper drying you store your dried and trimmed buds inside an airtight glass jar to allow the sugars and organic terpenes to ripen, ferment, and break down the chlorophyll. This makes for a smoother, sweeter smoking and vaping experience.  Further conversion of cannabinoids occurs during this period as well so a good cure most definitely can affect more than just taste, but effect as well.  Once again, one could argue that the curing and trimming of the nug is a big part of what makes quality.  I'm here to say though, that I see a fourth aspect to add to your arsenal of tools for creating quality Cannabis.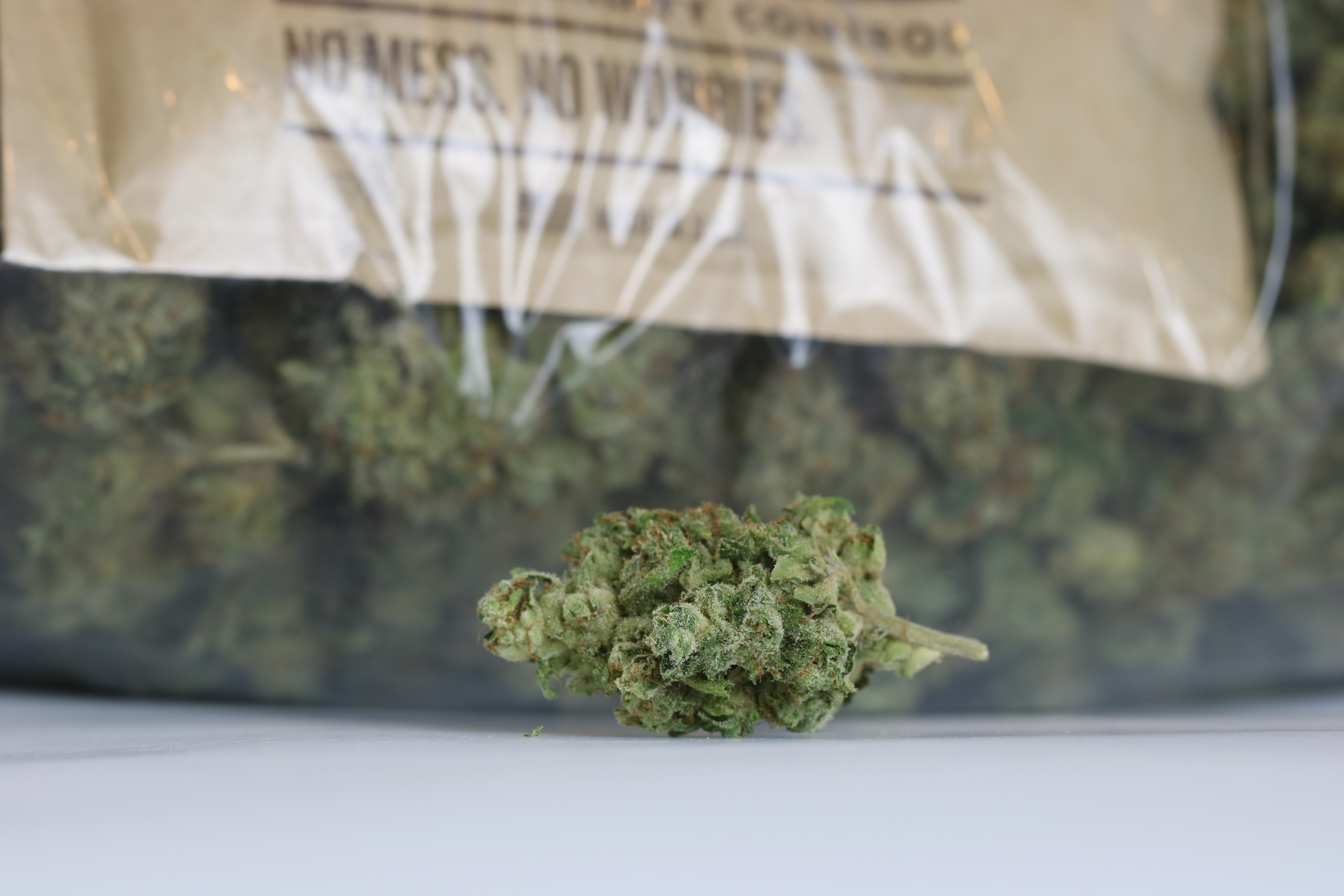 Preservation:
Growers have been judging dryness with such vague measurements as "when the stem easily snaps" for too long.  And many have suffered the loss of mold-covered medicine because they jarred it up while it still had too much moisture in it.  Now there is a product called Boveda that can control the relative humidity of your medicine for months and months.
Boveda packs work using a reverse-osmosis membrane. Inside is a solution of natural salts and purified water vapor either exudes or absorbs moisture to keep your nugs fresh and free from mold or harmful micro-organisms.  Studies have shown that Cannabis flowers can lose up to 15% of their terpene content when they are over-dried.  Boveda is now now the trusted product in two-way humidity control used to preserve everything from Humidors to Cannabis to Guitars.  They come in various sizes and RH levels which for Cannabis range between 58% and 62% relative humidity.
So since it's all relative anyways, I'd love to know your opinion of what affects the quality of Cannabis.  Either way, we can now agree that the final step is always proper preservation and storage of your nugs.  And the best way to do that is with Boveda.
– Dianna Donnelly
Dianna Donnelly is a Cannabis educator, blogger, and free-lance writer living in Kingston, Ontario. She counsels new patients on the safe and effective use of medicinal cannabis and believes that with enough time, cannabis, and coconut oil she can heal the world.
Native Roots Packaging Cannabis with Boveda
Starting September 29th, flower sold at Native Roots includes a Boveda pack in every container. A new movement in cannabis storage has begun.
Boveda's patented 2-way precision humidity control adds or removes 100% pure water vapor to maintain the ideal moisture content in cannabis. The result? 15% higher terpene retention, safer, more effective flower and rejection of money lost to evaporation.
Why would a recognized leader do this? Leaders lead. Native Roots felt a duty to provide safer flower at a higher quality by packaging with Boveda. This trusted organization was not satisfied letting their exceptional flower decay on the shelf as it slowly dried out. Boveda in every container means your flower is still curing on the shelf as it patiently waits for you to come grab it.
To find out more about how Boveda lets you cure on the shelf visit this page. Or jump right to the Native Roots store locator to find the closest of 17 locations near you.
info@bovedainc.com
952.745.2905
Is your dispensary curing on the shelf?
Or is their cannabis decaying on the shelf?
Did you know curing is the most critical part of cannabis cultivation? Curing is another term for aging. After hang-drying, a cultivator introduces cannabis to a container, ideally at a stable humidity level, for a time between a couple weeks to a few months.
A proper cure is essential for maximum patient safety, maximum quality (color, aroma, flavor) and maximum therapeutic benefits.
The thing is, few cultivators/dispensaries cure properly because demand is so high. They can easily provide pretty darn good cannabis now at the expense of providing really outstanding cannabis later. There's a growing number of them now curing on the shelf by packaging cannabis with the world's only precision 2-way humidity control – Boveda. Is your favorite dispensary doing it?
With Boveda everywhere flower is present, we're adding and removing moisture to maintain a stable humidity level at the perfect curing humidity. That means your cannabis retains 15% more terpenes – the beneficial compounds you're buying it for. So instead of cannabis losing quality on the shelf, Boveda in the containers is curing it – making it better.
Cultivators/Packagers/Processors across the country are starting to cure on the shelf with Boveda. If they're not already, ask your favorite dispensary when they're gonna start!
Charlie Rutherford
Business Development Director