Traveling with Boveda
Reviving Dried Cigars
There's nothing to be embarrassed about having dried cigars. Sooner or later, it happens to everyone–really. Whether it was in a backseat, an overhead bin or a motorcycle saddlebag, many a cigar-loving traveler has dried out their smokes by treating them like common baggage.
Throwing humidity control to the wind even for a few hours can damage your cigars and diminish their flavor.
Think about it. Cigars are born, raised and rolled in humid countries. Take cigars on a plane ride and you're exposing them to moisture-sucking conditions. Humidity in that airplane's cabin is extremely low–usually less than 20%, according to the World Health Organization's website. 20% RH? That's Death Valley for cigars!
Humidity fluctuation is why many high-end brands, including Arturo Fuente, Matilde and Rocky Patel, nestle a Boveda 69% RH  packet in each box to protect their cigars while they're in transit. Boveda's patented 2-way humidity control keeps the cigars at an ideal moisture level until they reach your home humidor.
That's great if you're globetrotting to the Dominican Republic. But journey to Cuba or other locales that can't or don't yet carry Boveda, and you should bring along your own humidity protection.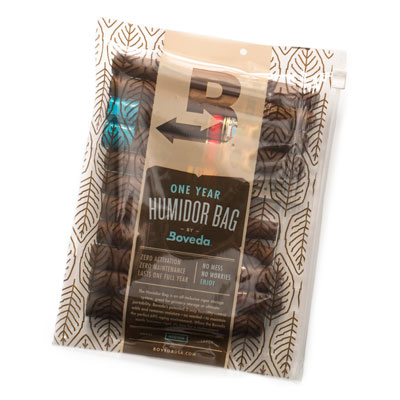 Cigar aficionados don't leave home without the travel insurance of a Boveda Humidor Bag, which:
Zips to seal
Takes up next to no space in a suitcase
Provides the same protection as a plastic container
Works better than store-bought sandwich bags because of its tough, high-barrier laminated construction
Comes prepacked with a patented 69% RH Boveda packet, which adds or removes moisture to protect your cigars
But let's say the damage is done and you think your cigars are toast
If the wrappers are intact, there is a good chance you can 'repair' them, according to Cigar Inspector. And Boveda is the safest and easiest way to revive dry, road-weary cigars. Just ask Matt from Michigan, who went searching for a way to revive some abused Cubans and happened upon Boveda.
"As far as cigars go, I am a newbie," Matt explained. "On trips to Cuba, I smoked a lot of very good cigars—Cohiba Robustos, Cohiba Siglo Vis and H. Upmann Coronas Majors. I was spoiled right from the get go!"
Yep, Matt was hooked. So he brought some Cohiba Siglo VIs stateside. "I had my cigars for about a month with no humidor. I did not know that they needed to be taken care of in that way," the humidity novice admitted.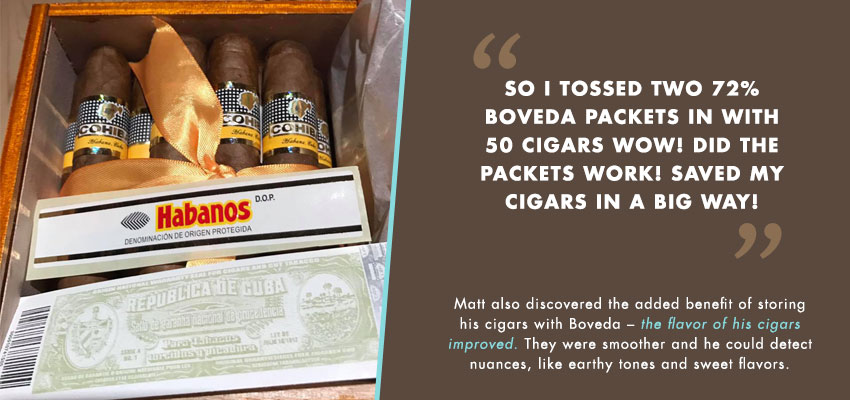 While we appreciate Matt's roll-up-his-sleeves, solve-it-himself approach, here's Boveda's official 1-step method for reviving dried cigars:
For a month, store your dried cigars in a Boveda Humidor Bag that's prepacked with a 69% RH packet. Done. (No bag? Pop a Boveda 69% inside a plastic container with your dry cigars for a month.)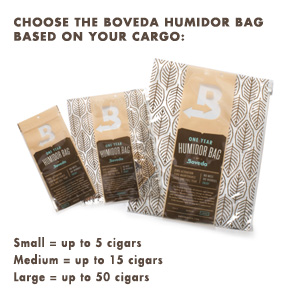 Why a month? Cigars lose moisture 4x as fast as they can safely gain moisture. Exposing your cigars to a safe, stable level of perfect humidity with Boveda minimizes the chance of the wrapper cracking as the filler gains moisture and grows. Nothing good happens quickly with cigars, so be patient.
Sure, you can chance reviving dried cigars with wet sponges, crystals and beads. Those one-way methods humidify cigars too quickly and don't know when to stop. This "flashing" of your cigars with humidity is dangerous any time, but especially when the wrappers are dry and hypersensitive to moisture. Could it work? Sure. But the odds are your wrappers will crack when you finally settle it to smoke those sought-after souvenirs.
Travel lesson? Take a Boveda Humidor Bag aboard with you to avoid those dead sticks in the first place.
Take a virtual trip with Boveda to these cigar-friendly destinations:
For My Humidor |  Manuel Quesada, Jr.      For My Humidor | Enrique Seijas       For My Humidor | Jochy Blanco
320-gram Boveda
You asked for it. And now it's here.
Cigar fans have been asking for something bigger than our 60-gram Boveda.  Some fans wanted to further reduce the 57 seconds it takes every few months to change their humidor's Boveda and some needed a more practical way to Boveda-fy large coolers, humidors and cabinets. We listened.
One 320g is the equivalent of five 60-gram Boveda (because the 60-gram are officially 67 grams). But the 320g isn't just for large containers or humidors! Boveda can absolutely be used in small humidors for ultra-simple aging perfection because it will never humidify beyond the RH on the pack. As always, using more than the minimum Boveda amount will just last longer and work more efficiently.
Here's the math:
*25 count humidor – One 60-gram lasts about 3 months. One 320g will last about a year.
*50 count – Two 60-gram lasts about 3 months. One 320g will now last about 6 months.
*100 count – Four 60-gram lasts about 3 months. One 320g will last about 5 months. Heck, toss another 320g in there for about a year of aging perfection!
Think of it like this: one 320g is good for up to 125 cigars in a wood humidor. Up to 250 in something more efficient, like a cooler or well-sealed wineador.
We'll first release cigar-related RH levels before also releasing Herbal-friendly levels to make mass curing incredibly simple.
Stand by for even more new product announcements!
The Boveda Team
What makes Boveda's Calibration Kit our most important product?
Boveda fans occasionally ask, "What's your most important product?" I think the Calibration Kit is our most important product because it's objective proof that only Boveda can precisely control moisture. No sponge, gel, bead or imitation product marketing themselves as "2-way humidity control" make a Calibration Kit, because their contents don't have the ability to control moisture.
The science community recognizes a saturated salt solution as the only way to control moisture in a chamber, package or container because it's the only way to add and/or remove moisture and maintain a precise humidity level. That's 2-way humidity control. 19 years ago, Boveda patented the way to package 2-way humidity control and we still hold those patents today. But that hasn't stopped imitation products from making Boveda-level claims.
Why should you care about the "science community" when you're storing cigars, guitars or herbal medicine? Because the science community doesn't deal in marketing. They deal in repeatable results through rigorous testing.
The same technology we use in the Calibration Kit is used in all Boveda products – a salt solution – meaning the patents that protect our technology for Calibration Kits protect us in the effortless aging of cigars, proper guitar storage, the curing/storage of cannabis and all the other industries we operate.
Can you get by with "competing" products? Sure, in the same way you can get away without a seat belt. By the time you wish you were using Boveda or a seat belt, it'll be too late.
Charlie Rutherford
Business Development Director, Boveda
AJ Fernandez Cigars to package with Boveda.
At the recent Serious Cigars Holiday party, Sean Knutsen was able to catch up with the most recent major cigar brand to start packaging with Boveda – AJ Fernandez of the eponymous AJ Fernandez Cigars.
With a stable of award-winning brands, AJ isn't resting on his proverbial laurels. Proving that he maintains a commitment to quality and consistency, you can expect to find Boveda in the following lines very soon:
San Lotano Oval
And Coming Soon: Last Call
Thank you AJ for trusting your brand to Boveda!