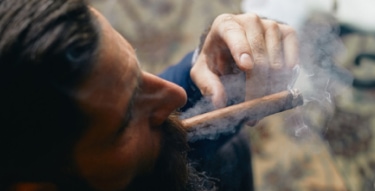 What Boveda RH do I need for tobacco?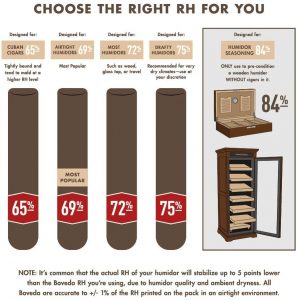 Watch this video to further understand what RH level is right for your humidor.
All Boveda are accurate to +/- 1% of the RH printed on the pack in an airtight environment. Because cigar humidor quality and surrounding environment vary, the actual RH of your humidor will stabilize at up to 5% lower than the Boveda RH you're using. But that's fine—relative humidity for cigars can range from 60%-72% depending on your cigar inventory.
65% – For Cuban cigars because Cuban cigars tend to mold at a higher RH level. We recommend this RH for long-term storage of oily tobacco commonly found in Puro cigars from one territory.
69% – For airtight humidors, including but not exclusively for Boveda humidor bags, Boveda acrylic humidors, polymer travel humidors. Also best for high-end humidors, including but not exclusively Elie Bleu and Daniel Marshall.
72% – For most wood humidors. Since wood humidors exchange moisture, it's not uncommon to see a decrease of 2–5%RH. The 72% accommodates and even compensates for the moisture loss allowing the humidor to maintain a sought-after high 60s RH level.
75% – For drafty humidors and extreme environments, the 75% accommodates a high amount of moisture loss allowing the humidor to maintain a high 60s RH level. Also recommended for humidors housed at high altitudes and in desert-like conditions.
84% – ONLY for seasoning a wood humidor WITHOUT cigars in it. This formula is specifically designed to provide moisture directly to the cellular structure of the wood humidor during the seasoning process. Once you've seasoned with Boveda, your humidor is primed for your most treasured cigars.