Introducing the Cigar Podcast: Box Press with Rob Gagner
Lose yourself in a good cigar and delve deeper into your cigar hobby with Boveda's own Rob Gagner. Not only can Rob grow one helluva beard, but he's also the host of Box Press, Boveda's new podcast for cigar aficionados (and those who strive for that designation). In this premiere episode of Box Press, learn how the change in seasons can really do a number on your humidor. And how you can proactively prevent humidity spikes and dips that can damage your cigar collection.
Explore cigars, cigar life and cigar enjoyment with Rob Gagner, host of Box Press, Boveda's new cigar podcast.
Subscribe to the Box Press podcast on the Boveda Cigar YouTube Channel or on iTunes.
Who is this Rob guy?
Just like a box-pressed cigar, Box Press the podcast is flavorful from its first puff to its last. This is a steady smolder of serious cigar talk from a guy who really knows his sticks.
Rob punctuated the Box Press premiere podcast with a C.L.E. EIROA The First 20. This premium blend commemorates Christian Eiroa's first twenty years in the cigar industry. Christian collaborated with his father, cigar legend, Julio Eiroa to create this medium strength cigar that was aged at least four years. Its intense color disguises this smooth smoking Honduran blend.
Like many of us, Rob was drawn to cigars by their craftsmanship, their ceremony and their care. Professionally, Rob started at Tobacco Grove, the premium tobacconist and maker of Crux Cigars. (Crux brought you Skeeterz, Ninfamaniac, Bull & Bear and more.) Now Rob manages Boveda's relationships with a fistful of other top cigar brands, including Asylum Cigars, Dapper Cigars and Altadis U.S.A.
Box Press, Episode 1 Highlights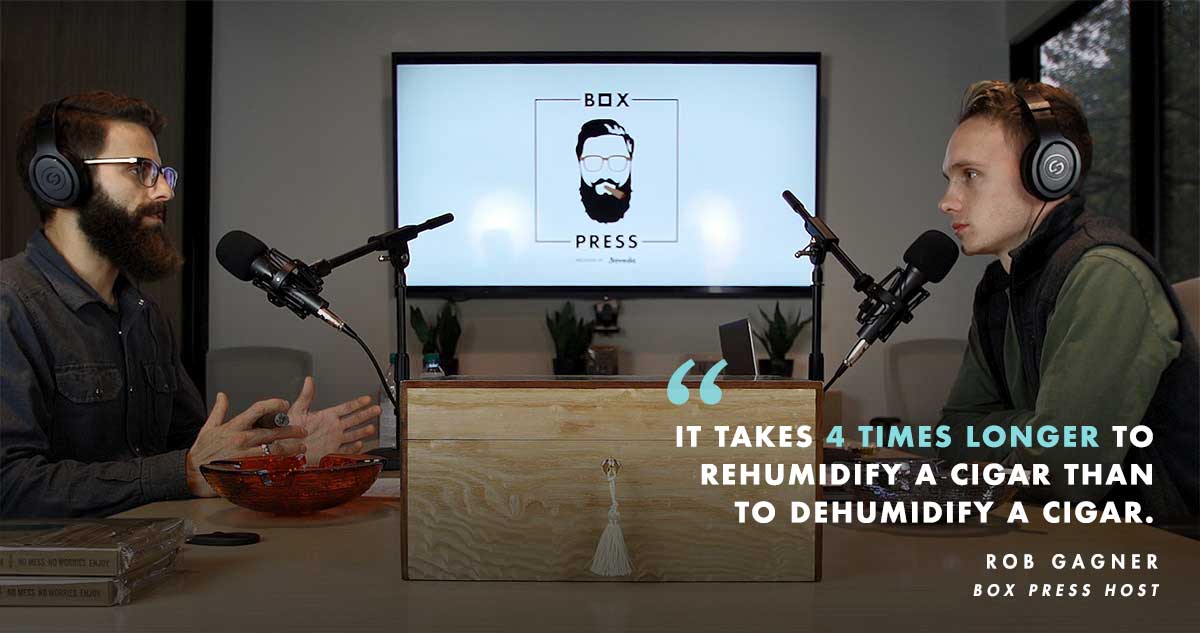 Does a change in seasons affect my humidor?
It can, depending on where you live. When the season changes do your temperatures and relative humidity levels dip or spike? If yes, then those external forces can affect a wooden humidor. For example, if the air surrounding your humidor is incredibly dry, it's going to draw moisture directly from it. For more information, check out this Boveda post.
Do I need to switch to a different Boveda RH level when the season changes?
You might need to change your Boveda RH when the season changes if your cigars are in a wooden humidor. For example, if the external RH dips dramatically from 50% RH to 10% RH during the winter months, you can help your humidor offset this extreme change by bumping up to Boveda with a higher RH%. When external RH percentages start to rise again in the spring and summer months, drop down your Boveda RH%.
Should I automatically swap Boveda RHs when the season changes?
Be proactive. Wait too long after an extreme RH dip and:
Worse case: You can permanently damage your wooden humidor and cigars.
Best case: You'll need to reseason your humidor for 14 days, place your cigars in a Boveda Humidor Bag and then reintroduce your cigars to your humidor.
If you know that RH is about to tank or soar, get your humidor ready by following these 3 Steps below to Prep Your Humidor for a New Season. Why take a chance?
3 Steps to Prep Your Humidor for a New Season with Boveda
Calibrate your hygrometer with the Boveda One-Step Calibration Kit.
(Tip from Rob: that makeshift salt water and bottle cap method won't give you a consistently accurate reading, but a Boveda One-Step Calibration Kit will.)
See where you're at. Take an RH reading of your humidor with that newly calibrated hygrometer. (Your RH% will vary based on the type of humidor you have, the cigars inside and the external environment.)
Based on your humidor's RH reading and the conditions of the season you're entering, order new Boveda. (Tip from Rob: he swaps out Boveda 69%RH for 72%RH in the fall to ward off the bone-sucking effects of a dry Minnesota winter.)
Remember, never mix Boveda RH percentages.
What if my climate is always extreme?
Cigar lovers in high-humidity locales like Miami or New Orleans or desert-dry spots like Denver or Las Vegas might want to reconsider that wooden humidor.
We know, we know, we know—a wooden humidor is showier, but you're constantly fighting extreme external conditions. Impress your buds with the flavorful, smooth-burning smoke of a well-kept cigar instead. (Tip from Rob: If you live in a place that's hard on cigars, switch to a closed or airtight system, such as a Boveda acrylic humidor or Boveda Humidor Bags.)
"I store 90% of my cigar collection in Boveda Humidor Bags."
– Rob Gagner, Boveda
For My Humidor with Enrique Seijas
Enrique Seijas of Matilde Cigars
What's it like to build a company with your father? It's smokin'–if your dad's a Cigar Aficionado Hall of Famer, José A. Seijas. In 2013, José launched Matilde Cigars with sons, Ricardo and Enrique. Come along with youngest son, Enrique on a plant-based stroll through the tobacco rows of the Dominican Republic. Hear about Matilde's evolution (and Enrique's, too). Turns out, there's a lot you can learn from your dad, especially if he's a cigar legend.
"We prepare what we love and share it with the world," Enrique Seijas from an interview with Cigar Dojo's Smoke Night Live. Enrique Seijas heads the marketing and product development for Matilde Cigars.
The maturing of a cigar family
Cigars are in Enrique's blood. He was born in 1984 in La Romana, Dominican Republic. La Romana is home to three world-famous names in Dominican cigars, Montecristo, H. Upmann, and Romeo y Julieta. Enrique's father José was the master blender of those biggies. As VP of operations, José also oversaw the manufacturing of up to 55 million cigars a year for Tabacalera de Garcia.
Not a bad guy to have by your side to develop a new brand of premium cigars.
In his younger days, Enrique spent many a vacation learning the ways of tobacco. He primed his knowledge working in the Tabacalera de Garcia factory. (Rolling cigars is better than flippin' burgers, yes?)
But cigars weren't just Enrique's school-break gig. After earning a marketing degree from New York's Rochester Institute of Technology, he apprenticed at Tabacalera de Garcia, including a stint in sales. He was also marketing director for Las Palmas Cigars Co & Cigar Country Stores.
As Enrique was revving up his career, José was downshifting. José retired in 2012 to trade one type of sticks for another on the golf course. But within a year, the cigar biz drew him back. Only this time, José wanted to do something small very, very well. Alas, the boutique brand, Matilde was born.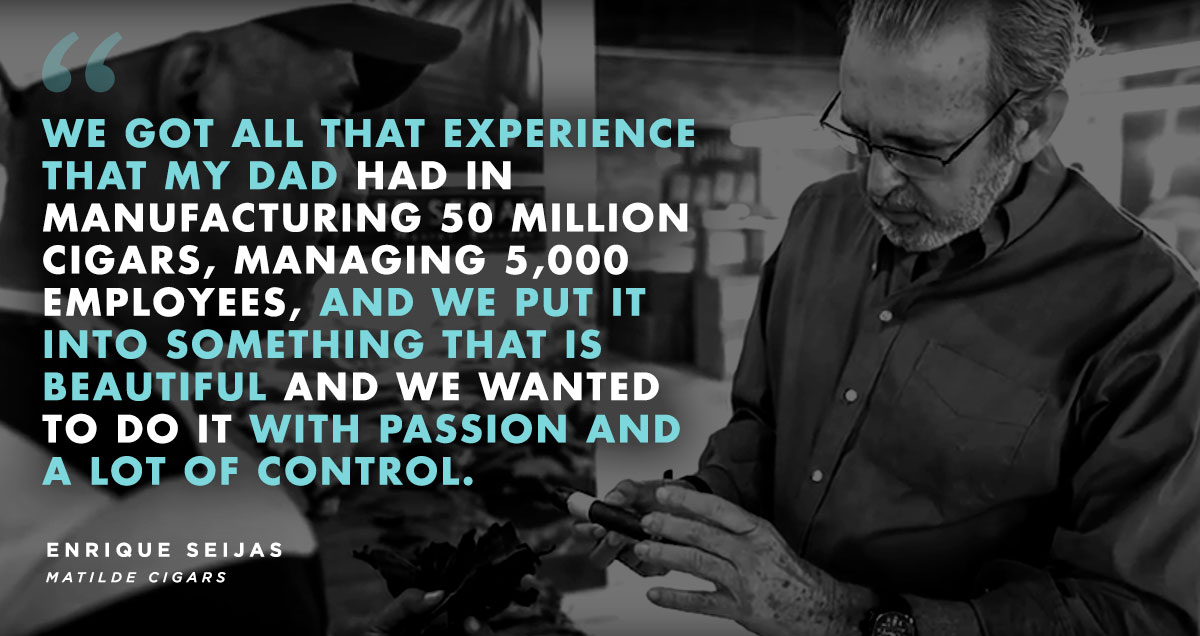 The resurrection of a legendary cigar brand
Why Matilde? José resurrected the name of a Santiago factory dating back to 1876. According to Enrique, this Dominican heritage brand ceased to exist by the early 1900s. So they revived Matilde to pay homage to the Dominican Republic AKA "Cigar Eden" with its ideal soil, idyllic weather and generations skilled in growing, curing and rolling tobacco.
Matilde debuted in 2014 with the aptly named, Matilde Renacer, which means to be reborn. That year, the Matilde Renacer, with its dark Ecuadorian wrapper, was recognized as one of Cigar Aficionado's Top 25. A sophomore effort, the Matilde Oscura, a dark, Mexican-wrapped oscuro, made Cigar Dojo's Top 10 list. It placed on that list again in 2016 with the company's first, fully box-pressed offering, Matilde Quadrata. Next up? The Matilde Serena, a milder cigar with a Connecticut wrapper.
Not bad for the new girl in town.
Father and son deliberately keep Matilde's production small. A total of 250,000 cigars are created each year. The Seijases plan to annually introduce a new core blend. This measured growth allows Matilde to maintain quality. José himself is the master blender. Enrique described his father as an open book of knowledge.
"I'm working beside him; I'm learning a lot with him.
And at some point I'll hopefully be as good and as passionate as he is with cigars."
Learning the biz also means knowing when to make adjustments. Initially Matildes were rolled in-house in La Romana. Now manufacturing is done by Jochy Blanco's Tabacalera Palma in Santiago.
"We were looking for more flexibility in production and blending," Enrique explained to the website halfwheel.  "Working with a factory like Tabacalera Palma gives us access to a much larger inventory of varieties of aged tobaccos and a larger team of cigar makers."
After those cigar makers handcraft Matildes, the cigars are off to the aging room for 90 more days. This final touch ensures a rich and luxurious flavor from start to finish.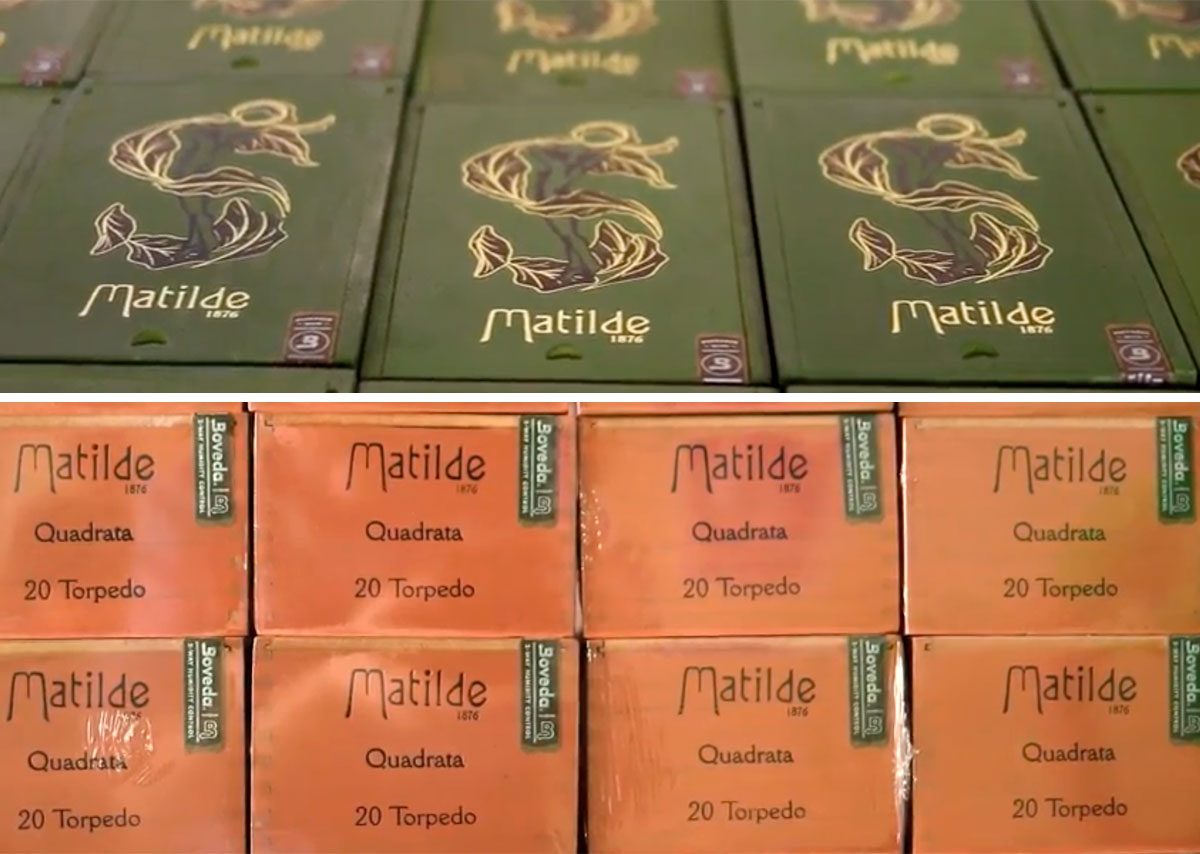 The artful science of precisely controlling humidity with Boveda
Once in their Art Deco-esque boxes—a varied hue for each varied blend—those dear, aged Matildes are protected by Boveda. While inside, Boveda slowly and gently adds and absorbs moisture to precisely lock in a 69% RH. Boveda's patented two-way humidity control works with natural salts and pure water vapor, so Boveda's presence does not alter the flavor of the Matildes.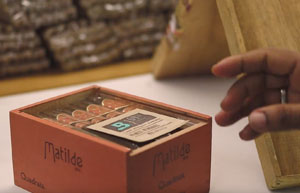 "We started working with Boveda since we started Matilde because we know it is very important to get that cigar to the right humidity to our retailers and to our consumers. Having a 69% humidity Boveda inside will assure that we get those cigars to the consumers ready to smoke at all times," Enrique said.
It's no surprise that a company with such calculated control over their fledgling brand counts on Boveda's calculated control over humidity. So when a man with decades of experience and his innovative son trust their lady to Boveda, maybe you should trust your cigar collection to Boveda, too.
Awarded Best Cigar Accessory 2017
Boveda awarded by Cigar Journal as Best Cigar Accessory 2017
You voted, we thank you!
For the third time in our 20-year history, previously in 2012 and 2015, Boveda is awarded Cigar Journal's Best Cigar Accessory. Boveda President & CEO, Sean Knutsen and Executive VP of Sales, Tim Swail accepted the award during the InterTabac trade show in Dortmund, Germany.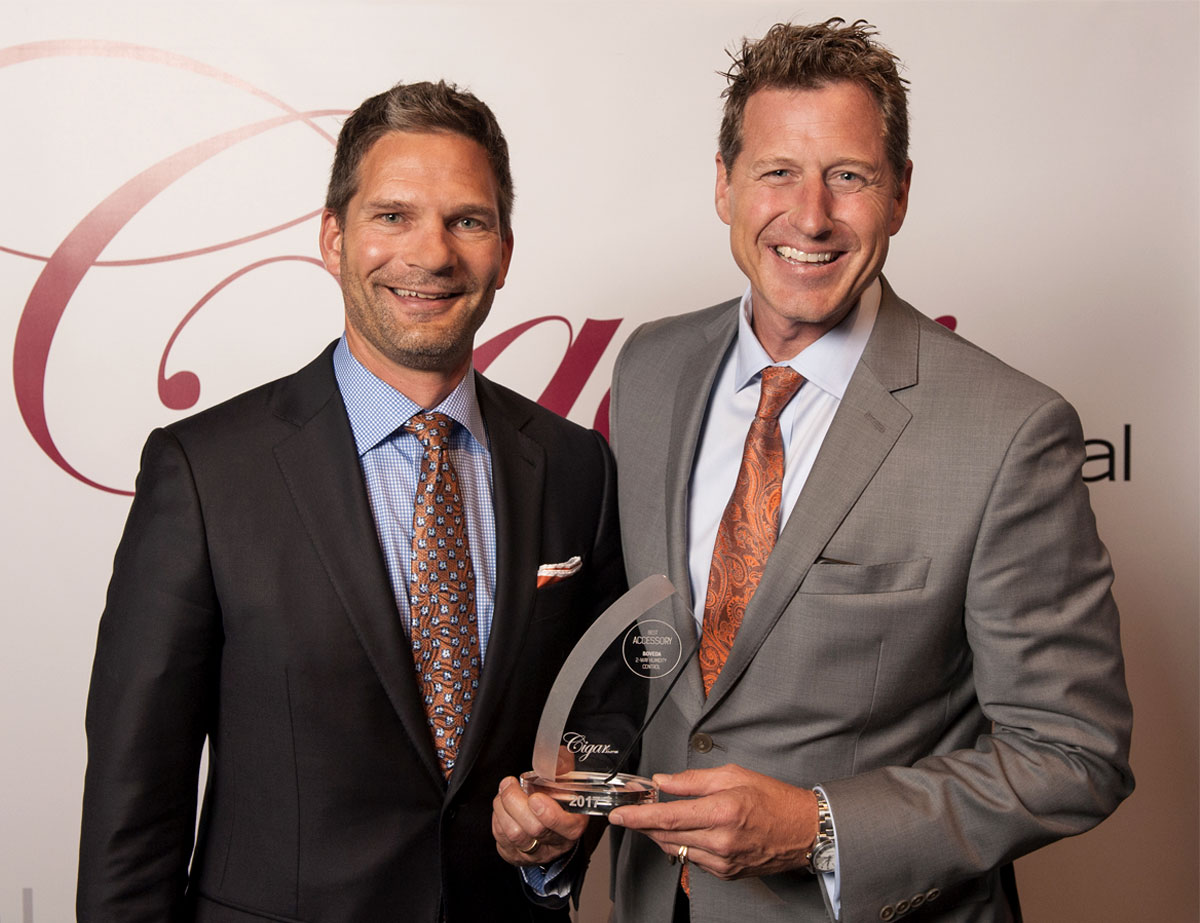 Boveda is a cigar necessity, more than an accessory
Cigar Journal's are the only awards in the cigar industry that are decided by public vote. So it's cigar aficionados like you who recognized Boveda's knowledge and commitment to the cigar industry.
Sean Knutsen, Boveda CEO said "It's an absolute honor to win this award for a third time—especially since cigar consumers select the winners. Cigar lovers tell us over and over again how they trust only Boveda to protect their cigar investment. It's cigar retailers who educate those cigar smokers on why Boveda's 2-way humidity control is important to maintain an ideal environment for their delicate cigars. More and more people are finding a Boveda packet boxed with their favorite cigars. That's coming directly from the manufacturers who use Boveda technology to augment their own packaging. When leaders in the industry count on Boveda to protect products that bear their name, that's the true honor."
2017 Winners of Cigar Journal's Cigar Trophy Awards
According to Cigar Journal, Cigar Trophy winners are chosen through a two-step process. Readers submit their top candidates for each category during a nomination round. During the second voting round, winners are chosen from these finalists.
Best Brand 2017
Best Brand Costa Rica 2017: Vegas de Santiago
Best Brand Cuba 2017: Partagás
Best Brand Dom. Rep. 2017: Davidoff Yamasá
Best Brand Honduras 2017: Oscar Valladares The Oscar
Best Brand Mexico 2017: Casa Turrent
Best Brand Nicaragua 2017: Drew Estate Liga Privada T52
Best Cigar 2017
Best Cigar Cuba 2017: Montecristo No. 2
Best Cigar Dom. Rep. 2017: Fuente Don Carlos No. 3
Best Cigar Honduras 2017: Alec Bradley Fine & Rare 2016
Best Cigar Nicaragua 2017: Padrón 1964 Anniversary Series Hermoso Maduro
Best Value 2017
Best Value Dom. Rep. 2017: Aging Room Solera Dominican Sun Grown
Best Value Honduras 2017: Rocky Patel Sun Grown
Best Value Nicaragua 2017: Flor de las Antillas
Best Cigar Lounge 2017
Blend Bar with Davidoff Cigars, Indianapolis
Best Cigar Accessory 2017
Boveda 2-Way Humidity Control
Charity & Community 2017
General Cigar Company Inc.
Outstanding Art 2017
Cigar Rings, SRL
Ambassador 2017
Cigar Sense Inc.
Lifetime Achievement 2017
Ernesto Perez-Carillo
Getting to know Operation: Cigars for Warriors
Sometimes a cigar is a lifesaver that only you can give
It's been one of those "you just can't make this **** up" days. But instead of fighting with your teen, battling a boss or weaving through construction, you've just survived a mortar blast.
Can you understand why settling back with a cigar takes on even more importance for the servicemen and women in combat? A long pull on a really good cigar provides a bit of calm amid a chaotic war zone. It's bonding time. Stress relief. Throw back to home.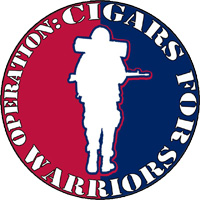 Premium cigars are the second most requested item by members of our armed forces, according to the nonprofit organization Operation: Cigars for Warriors or OP: CFW, for short. Coffee is number one. (Guess you need a good ol' jolt of java before relaxing with a smoke.) But OP: CFW leaves caffeine to other charitable groups. Founded in 2012, OP: CFW is the only organization that specializes in sending premium cigars to all branches of the military in combat zones or long term deployments, such as Iraq and Afghanistan.
"We have sent cigars to warships as well. One shipment went to a Navy ship in North Korea," Jamie Lemon, OP: CFW's Public Relations/Marketing Director said. Because of the number of requests, OP: CFW's prefers to ship one care package per troop.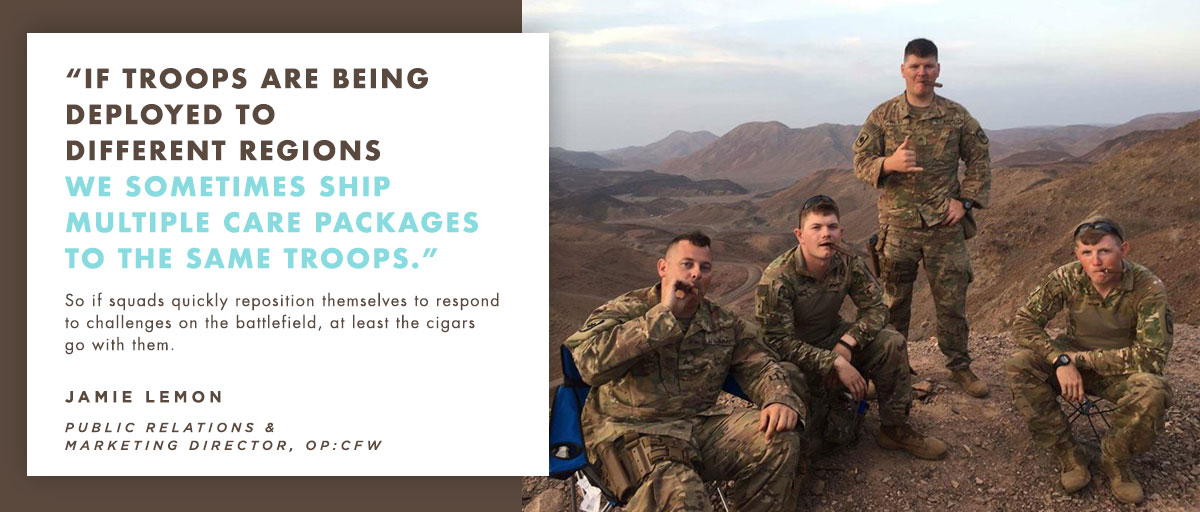 Annually, OP: CFW serves about 25,000 service people. Since its inception, the cigar charity has shipped more than 750,000 cigars. Where do the donations come from? Cigar aficionados, cigar makers and cigar retailers. DONATE NOW
Boveda goes to combat to defend against the enemy of cigars  
Boveda was OP: CFW's first sponsor and is always there to protect OP: CFW shipments as they make their way all over the world. No matter how combative the environment, Boveda's 2-way humidity control adds and absorbs moisture to lock in a precise 69% RH that's perfect for cigars. (If Boveda can safeguard cigars in the arid desert or the humid high seas­, your home humidor is safe and sound.)
"OP: CFW reached out to us about five years ago to see if they could buy Boveda at a discount. Boveda was critical to get their cigar shipments across the globe in perfect condition, but the cost was getting too high as OP: CFW's cigar donations were increasing," Charlie Rutherford, Boveda's Business Development Director, said.
"Once we learned about OP: CFW's mission, we GAVE them as much free Boveda as they needed instead of just giving them a discount. An organization that supports soldiers who go to work every day defending the freedom and liberty of the U.S. is not going to pay for Boveda when a cigar at the end of the day might be the closest connection they have to normalcy."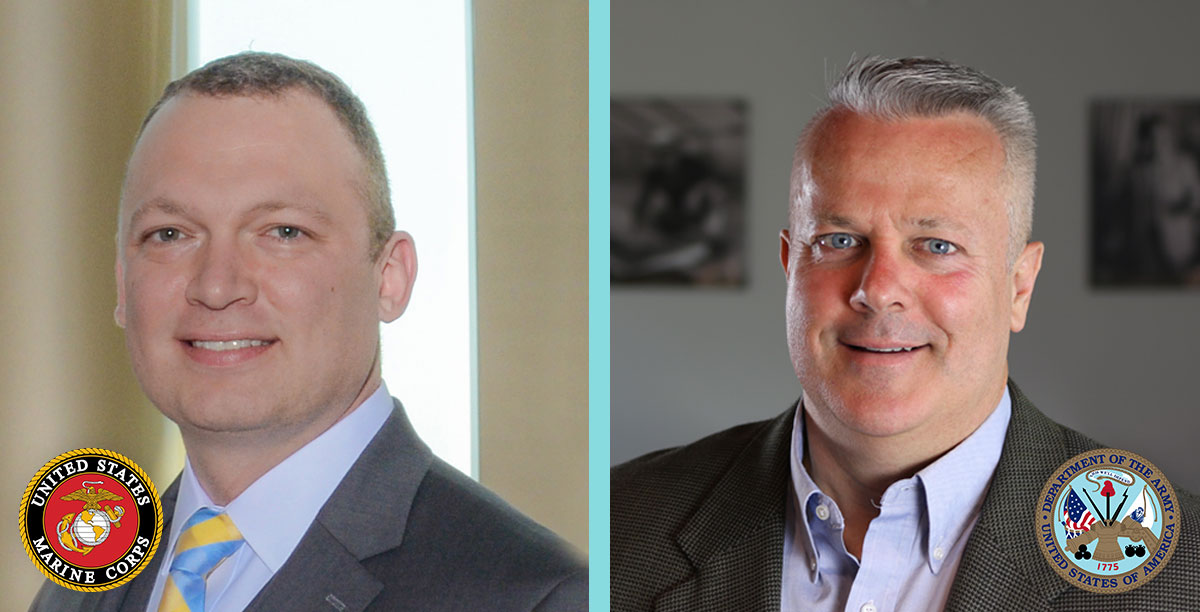 Warriors wait for orders because of FDA ruling
Previously, more than 30 cigar makers have been on board to donate cigars, including Rocky Patel, Moscato and Oliva. Since August 2016, U.S. Food and Drug Administration regulations now prohibit the cigar industry from the decades-long tradition of donating cigars to troops.
"The FDA ban on manufacturers cut our supply roughly 80%," Robert Allan, OP: CFW Director of Operations said. But the ban hasn't decreased the demand, according to Allan. "There are times our military has waited months for a shipment. Right now we are at an eight week shipping delay or longer."
Some U.S. legislators are seeking an exemption for corporate military cigar donations. According to an October 24, 2016, article from the cigar website Halfwheel:
"U.S. Representative Kathy Castor, D-Tampa, introduced a bill that would allow for donations to the troops. It currently has one co-sponsor and seems highly unlikely to pass in the current Congress.
U.S. Rep. Duncan Hunter, R-Calif, who serves on the House Armed Services Committee, has stated he will try to add an amendment to the defense authorization bill — the annual bill that sets the military's budget — something that will have much better odds than Castor's standalone bill."
It's your time to serve—give now
In the meantime, the FDA ruling does not prevent individuals from donating cigars to the troops. And that's where Boveda customers like you come in. Boveda is reaching out to every cigar lover out there. Next time you add to your own cigar collection, share a cigar (or box) with a man or woman fighting for our freedom.
OP: CFW is a 501 (c) (3) charity, so your donation is tax deductible. There are three ways to give:
In upcoming months, Boveda will share stories from some of the troops you've helped. So you can hear how that cigar care package gave a moment of relaxation and spread camaraderie, which in turn protected us all back home. Thank you for your service.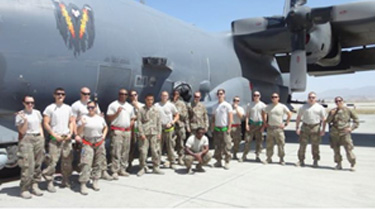 "Thank you for the cigars, OP: Cigars for Warriors have provided! It has brought together our Airmen [and Airwomen] in a fun and joyful atmosphere. We, Aircraft Maintainers, thought it would be great to "light one up" in front of our AC-130U aircraft. …this awesome organization that enabled us to enjoy our cigars. Thank you, Boveda. Once again, thank you OP: Cigars for Warriors team."
Traveling with Boveda
Reviving Dried Cigars
There's nothing to be embarrassed about having dried cigars. Sooner or later, it happens to everyone–really. Whether it was in a backseat, an overhead bin or a motorcycle saddlebag, many a cigar-loving traveler has dried out their smokes by treating them like common baggage.
Throwing humidity control to the wind even for a few hours can damage your cigars and diminish their flavor.
Think about it. Cigars are born, raised and rolled in humid countries. Take cigars on a plane ride and you're exposing them to moisture-sucking conditions. Humidity in that airplane's cabin is extremely low–usually less than 20%, according to the World Health Organization's website. 20% RH? That's Death Valley for cigars!
Humidity fluctuation is why many high-end brands, including Arturo Fuente, Matilde and Rocky Patel, nestle a Boveda 69% RH  packet in each box to protect their cigars while they're in transit. Boveda's patented 2-way humidity control keeps the cigars at an ideal moisture level until they reach your home humidor.
That's great if you're globetrotting to the Dominican Republic. But journey to Cuba or other locales that can't or don't yet carry Boveda, and you should bring along your own humidity protection.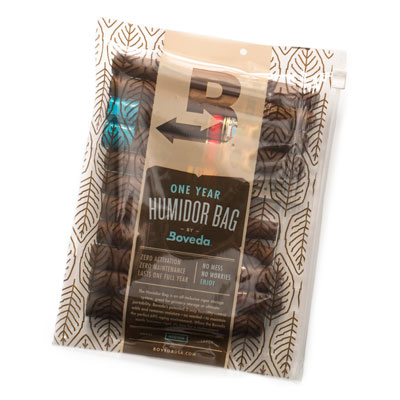 Cigar aficionados don't leave home without the travel insurance of a Boveda Humidor Bag, which:
Zips to seal
Takes up next to no space in a suitcase
Provides the same protection as a plastic container
Works better than store-bought sandwich bags because of its tough, high-barrier laminated construction
Comes prepacked with a patented 69% RH Boveda packet, which adds or removes moisture to protect your cigars
But let's say the damage is done and you think your cigars are toast
If the wrappers are intact, there is a good chance you can 'repair' them, according to Cigar Inspector. And Boveda is the safest and easiest way to revive dry, road-weary cigars. Just ask Matt from Michigan, who went searching for a way to revive some abused Cubans and happened upon Boveda.
"As far as cigars go, I am a newbie," Matt explained. "On trips to Cuba, I smoked a lot of very good cigars—Cohiba Robustos, Cohiba Siglo Vis and H. Upmann Coronas Majors. I was spoiled right from the get go!"
Yep, Matt was hooked. So he brought some Cohiba Siglo VIs stateside. "I had my cigars for about a month with no humidor. I did not know that they needed to be taken care of in that way," the humidity novice admitted.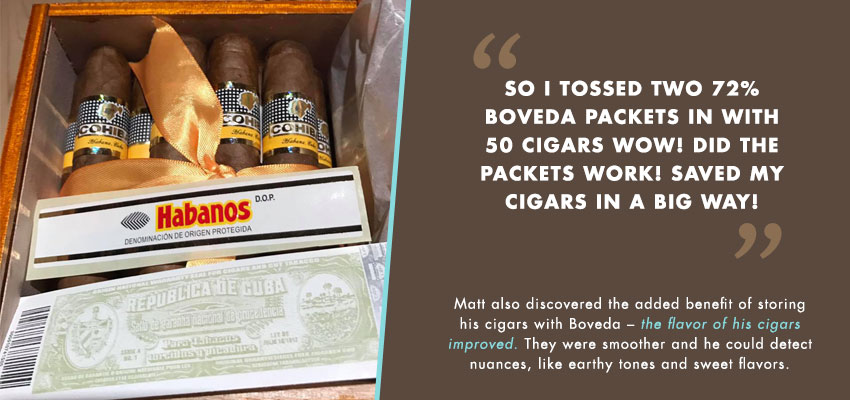 While we appreciate Matt's roll-up-his-sleeves, solve-it-himself approach, here's Boveda's official 1-step method for reviving dried cigars:
For a month, store your dried cigars in a Boveda Humidor Bag that's prepacked with a 69% RH packet. Done. (No bag? Pop a Boveda 69% inside a plastic container with your dry cigars for a month.)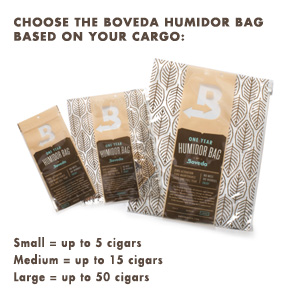 Why a month? Cigars lose moisture 4x as fast as they can safely gain moisture. Exposing your cigars to a safe, stable level of perfect humidity with Boveda minimizes the chance of the wrapper cracking as the filler gains moisture and grows. Nothing good happens quickly with cigars, so be patient.
Sure, you can chance reviving dried cigars with wet sponges, crystals and beads. Those one-way methods humidify cigars too quickly and don't know when to stop. This "flashing" of your cigars with humidity is dangerous any time, but especially when the wrappers are dry and hypersensitive to moisture. Could it work? Sure. But the odds are your wrappers will crack when you finally settle it to smoke those sought-after souvenirs.
Travel lesson? Take a Boveda Humidor Bag aboard with you to avoid those dead sticks in the first place.
Take a virtual trip with Boveda to these cigar-friendly destinations:
For My Humidor |  Manuel Quesada, Jr.      For My Humidor | Enrique Seijas       For My Humidor | Jochy Blanco
For My Humidor with Manuel Quesada, Jr.
Why Humidity is Integral to Cigars
Peek into the world of Quesada Cigars. See where they're made, how they're made and who crafts them. Watch and learn how Manuel fled Cuba and turned $100 into an iconic cigar brand. Told by Manuel Quesada, Jr. himself, patriarch of Quesada Cigars and the 2016 recipient of Cigar Journal's Lifetime Achievement Award.
"Anytime we put a cigar on the table, it's our name on the table."
Throughout four generations, the Quesadas have been leaders in the cigar business with popular brands like Casa Magna, Quesada, Fonseca and Heisenberg. Quesada boxes its prized cigars with Boveda 69% RH packets. (BTW, did you catch the Boveda seal that blesses each box of Quesadas? Nice touch.)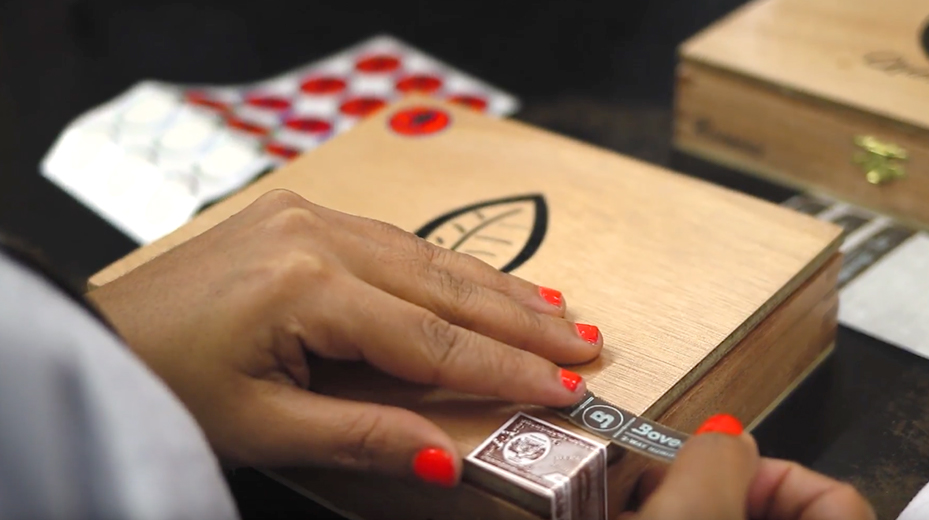 From Quesada to Boveda to You-a
Señor Quesada said it best, "Moisture becomes an everlasting, ongoing part of making cigars and dealing with tobacco." From the time tobacco is grown until the finished product reaches cigar sellers, someone is responsible for humidity control. Once cigars are in your hands, that someone is you. Luckily, Boveda is more than just a travel companion to the world's best cigar brands, like Quesada. Boveda makes you an expert in cigar humidity regulation.
Next time you light up a buddy's cigar from his humidor, bring out the science behind Boveda:
Natural salt is the secret that signals the patented Boveda packet that it's time to absorb or add moisture.
That moisture is pure all-natural water that's slowly released when your humidor drops below the RH value printed your Boveda packet.
Different cigars thrive in different RHs—Boveda has four RHs to choose from (plus the 84% RH to season your humidor).
Then take a long draw on a something like a Quesada Reserva Privada. Exhale, pause and say something like, "Boveda are God's creation to cigars." (Although Cigar Aficionado Hall of Famer, Manuel Quesada said it first, we're sure he won't mind if you quote him—especially over one of his cigars.)
A Conversation with Daniel Marshall
From "just a cigar" to the sublime—
A conversation with Boveda and Daniel Marshall
When a cigar great like Daniel Marshall carves out some time with you, you savor the moment. The man's fashioned elegant humidors for some big names, including Al Pacino, Steve Harvey, David Beckham and Jay-Z, just to name a few. For cigar connoisseurs and collectors, Marshall creates luxury blends, such as The Golden Cigar, which is wrapped in 24k gold leaf.
Over a smoke with Marshall, Boveda's CEO, Sean Knutsen, and EVP, Tim Swail, talked cigar care, cigar collecting and the mystery of a missing humidor.
The video's a little over 8 minutes, so go grab your favorite cigar. (We'll wait.) Then relax and settle in with three guys who speak the language of fine cigars. Enjoy the flavor of your smoke and the richness of the conversation.
Daniel Marshall Tells Story About Missing Humidor
Filmed, left to right, Boveda EVP, Tim Swail; Boveda CEO, Sean Knutsen; and Daniel Marshall at the 2017 International Premium Cigar & Pipe Retailers Association (IPCPR) Annual Convention and International Trade Show.
Throwback to one-way cigar humidification
It's the early 1980s. Daniel Marshall was in his California sailboat workshop taking apart a humidor. Taking apart? He had to learn the inner workings of one before he could design them for his own namesake company and others, including Tiffany & Co., Harrods and Alfred Dunhill.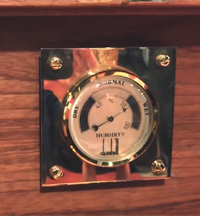 "It takes a lot to make a humidor, so it doesn't warp and change over time," Marshall said.
Marshall's replica of the Alfred Dunhill humidor he disassembled went missing during a move more than two decades ago.
Recovered in storage, the 35-year-old humidor was displayed at the 2017 IPCPR Convention. Turned out a bottle of Dunhill whisky was just one of the shockers inside the old chap. The other?, how primitive cigar care was back then. "You couldn't dial into a specific humidity," Boveda EVP, Tim Swail pointed out.
The analog hygrometer only gauged if moisture was low, normal or wet. How low, normal or wet? Who knew?! The RH was next to impossible to control. Cigar smokers filled the humidor's antiquated vials with tap water then adjusted their caps so that moisture could evaporate.
So 1982? Think again–some cigar consumers still haven't evolved beyond outdated one-way cigar humidification. They still use distilled water and sponges, gels or beads to douse their cigars with moisture.
 Elevating the experience for cigar lovers
In a recent conversation with David Savona, Executive Editor of Cigar Aficionado, Marshall said he discussed how far cigar humidification has come–from those fillable vials to Boveda's two-way humidification system.
Boveda CEO, Sean Knutsen acknowledged Cigar Aficionado's role in educating cigar smokers, "…they've become much more keen and demanding on quality. And they understand the difference that moisture plays in the flavor of a cigar and the aging of that cigar."
"The key element is a humidification system," Marshall said. The humidor paired with a humidification system "…replicates the environment that the cigars were born in and grown in and aged in." Boveda is Marshall's chosen cigar humidification system.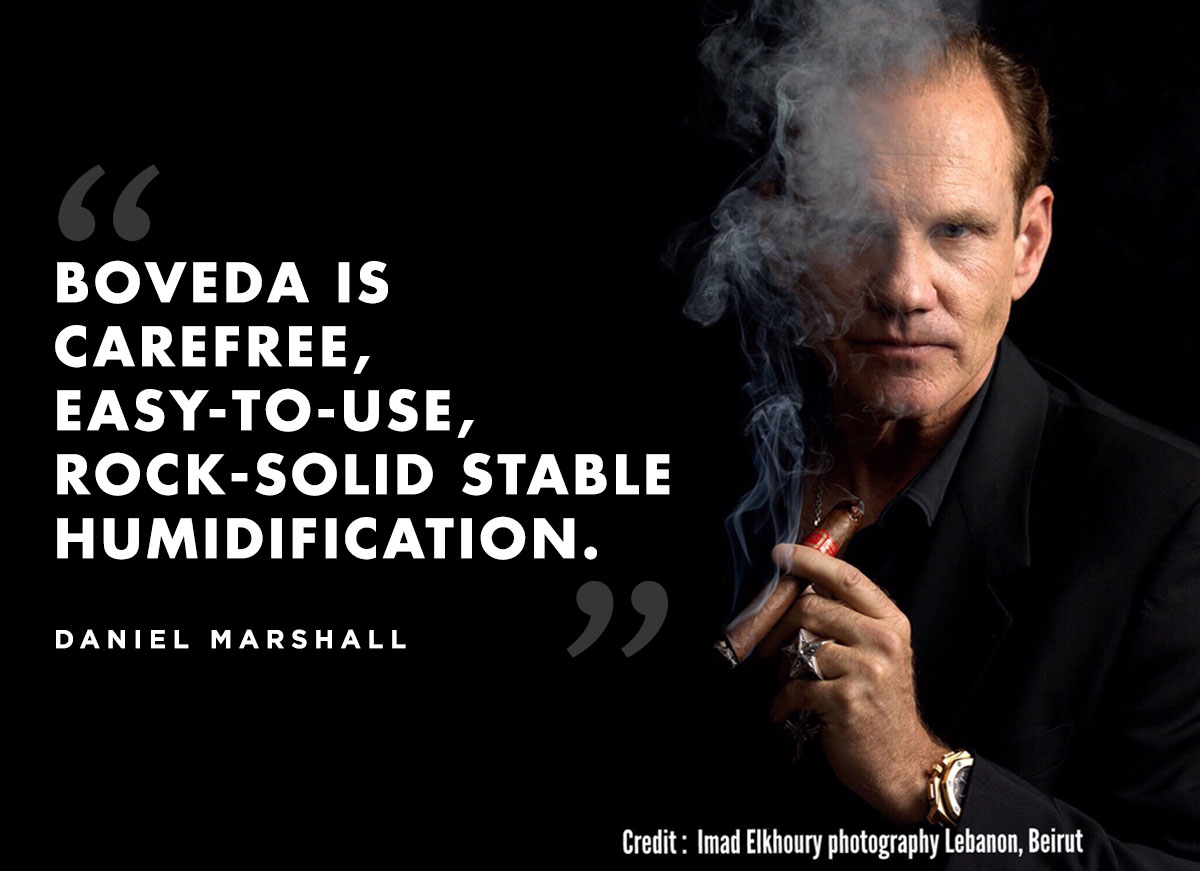 Why cigar leaders, like Daniel Marshall,
trust Boveda for their cigars and humidors
A cigar lover chooses what Boveda RH% is right for their cigars. Then just tosses a Boveda packet into a humidor and forgets about it for months. Boveda's patented two-way humidity control works automatically to maintain a precise RH level. Natural, food-grade salts know when to absorb moisture and when to release purified water vapor. When the packet gets rigid, it's time for a new Boveda.
"We use it [Boveda] on our cigars–on our gold cigars, with our red label cigars and in our humidors," Marshall said.
With Boveda technology and quality humidors like Daniel Marshall's, cigar lovers can now create and maintain an environment to store, as well as collect cigars, Swail said.
"It's a tremendous investment," Marshall said. "And why not protect it just like they do whisky collections or wine collections or guitar collections?"
Cigar lovers will want to grow their collection after eyeing the Daniel Marshall 35th Anniversary Whisky Cigar Humidor. The design, inspired by Marshalls' long-lost Alfred Dunhill model, has evolved. Gone are those fillable vials. They've been replaced by 21st century technology–the precision of Boveda's 2-way humidification control system.
To find which Boveda RH level is right for your cigars, check it out here.
Innovative Brands Partner to Provide Safe Online Cigar Trading
PuroTrader's CEO and Co-founder Pierre Rogers shares how one cigar gave cigar aficionados access to 8,000 more.

On PuroTrader, you can trade, buy and bid on your favorites, from Arturo Fuente and Rocky Patel to Montecristo and Gurkha. Every cigar seller ships your order with a Boveda 2-way humidity control packet. Once again, Boveda travels in pretty good company. Here's Pierre to round out the story.
I was living in Boston in 2003 and Señor Avo Uvezian, the famous owner of Avo Cigars, was celebrating his 77th birthday at the well-known Boston staple, Abe & Louie's Steakhouse. I was invited to join his private party in the upstairs lounge. (Back then you could actually smoke cigars indoors.)
Señor Avo commemorated his birthdays by releasing a limited-edition cigar. That year, it was the Avo 77. So there I was, listening to the man of the hour playing jazz on the piano while smoking a wonderful cigar bearing his name.
The steak was black and blue. The wine was almost as smooth as the jazz. The crowd soaked in the excitement of the evening. I believe that the most beautiful thing about cigars is how they draw people together from all walks of life. Blue collar guys mingle with partners from law firms. Lobbyists mix with congressmen. This is the power of the cigar.
"I purchased a box of the rare Avo 77s. I planned to properly age that box for years. Preserve the cigars. Preserve the memory."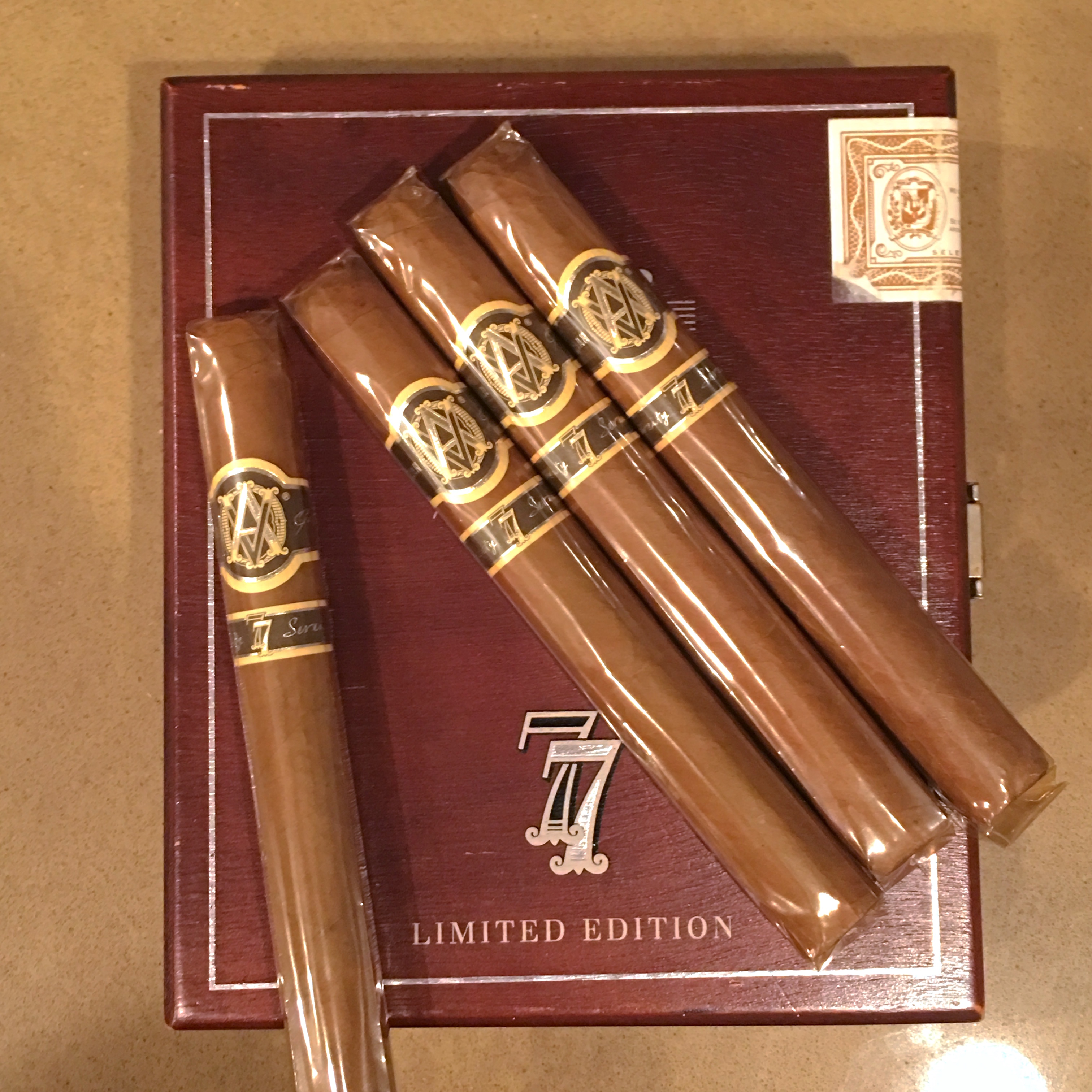 Fast forward five years. My collection of cigars and I moved across country to California. For a few months, my beloved cigars traveled through several large cabinets until they reached their final home in my newly completed walk-in humidor.
While unpacking my collection and checking my inventory, my heart sank. Somehow one Avo 77 was missing from my box! How could this be? I didn't smoke it, but nonetheless, it had disappeared.
Every collector knows that you either have a complete box or you don't—there is no in between. I was shocked, disappointed then angry.
I was determined to find a replacement Avo 77. Firing up the internet, I searched for someone who still had one of these rare cigars. Even though it was just five years since their release, they were nowhere to be found on dealers' inventories. I posted on nearly every cigar forum I could find. Still no luck! Was it really possible that all of the Avo 77s were gone?! I spent the next few years slowly searching the net for just one cigar to complete my box.
Then it hit me. If I could peek into every cigar collector's humidor, I was bound to find a single Avo 77.
"I needed to create a platform where collectors came together to buy, sell, trade and discuss all things cigar!"
As luck would have it, I found myself in Hawaii with a dear friend of mine enjoying a fine cigar and sitting by the ocean with our wives. I told the story of my AWOL Avo 77. Then revealed my idea for a global trading platform that could radically change how cigars were bought, sold and collected.
He stopped me midway through my story and said, "WE need to do this immediately!"
Out of our concepting, PuroTrader was born. I sold my Ferrari F430 to start the new company.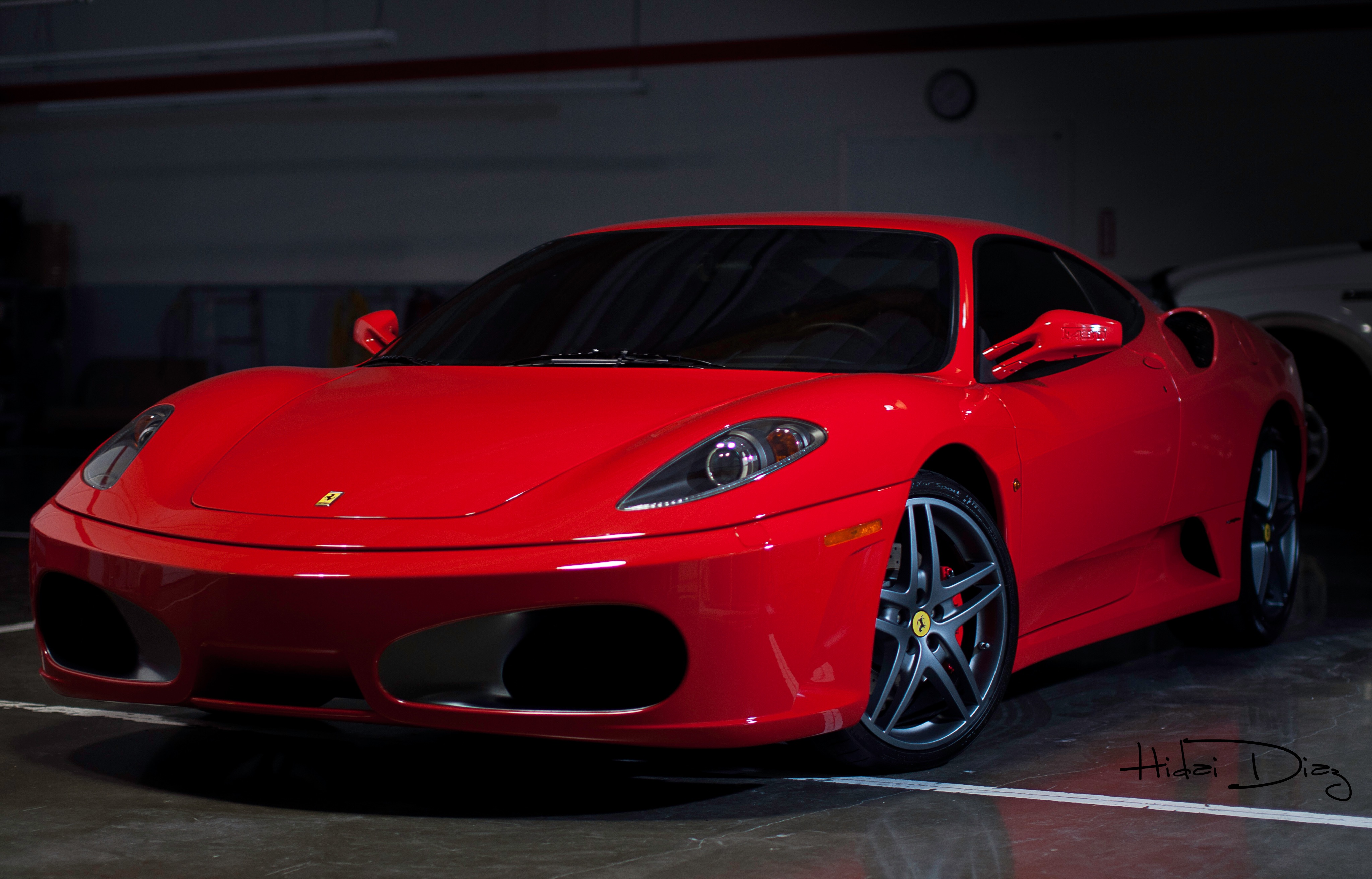 Next we set off to create the world's first global trading platform for premium and vintage cigars. We thought about the investable value of cigars, especially rare and aged. We wanted to connect every humidor in the world, so buyers and sellers could influence the value of premium cigars. Bring transparency to an opaque world. Put the power of pricing and distribution back in the hands of the consumer.
It was shocking to discover that most cigar shops sell only two types of cigars: ones they like and ones they think they can sell. What you see on the shelves is determined more by gut instinct than actual data. With technology, we disrupted the antiquated tobacco business. PuroTrader made cigars more accessible across the world, which created a much better experience for collectors and aficionados.
"Funny thing about starting a business in a non-existing space, there is really no place to turn for advice or guidance."
More than 80 payment-processing banks turned us down because they thought an online tobacco marketplace was a big risk. Web designers who weren't up to the task came and went. We hired a tobacco lobbyist firm out of Washington DC to interpret the current legal landscape and give us guidelines to follow. (The law hadn't yet caught up to the digital age.)
Creating a massive database of cigars was no small undertaking either. With more than 8,000 entries of cigars from pre-Embargo to the most recent limited editions, PuroTraders has one of the largest cigar databases in the world. Our users support these efforts by using PuroTrader as "e-Humidors." Collectors now alert us if they find a cigar that isn't in our database.
As PuroTrader continues to grow, more real data will guide cigar collectors, including:
• What's the return or appreciation of cigars over time
• What parts of the world buy what format and what blends
• What are the seasonal buying trends for manufactures, retailers and ultimately cigar smokers
Today, PuroTrader is the largest online cigar trading platform in the world. In 2016, the company sold close to 51,000 boxes of cigars and, at its current pace, is set to triple that by end of 2017.
We have had over 1.2 million engagements on social media since launch. We have users in every developed country in the world. This amazing platform we have created is nothing without the overwhelming support we receive from the cigar community. Without the cigar community sharing our site with their fellow brothers of the leaf, we would be nowhere.
As far as that elusive Avo 77, I'm still on the lookout. Hopefully someday someone will post a box on PuroTrader, and I'll bid on it.
How does PuroTrader work?
Vetted collectors and retailers post inventories on PuroTrader. Cigar inventories are extensive but change daily. If you don't see the one, check back often. PuroTrader requires sellers to include Boveda with your cigar shipment. Boveda 2-way humidity control packets add and absorb moisture to maintain a precise RH%, which will protect your cigar investment during transit.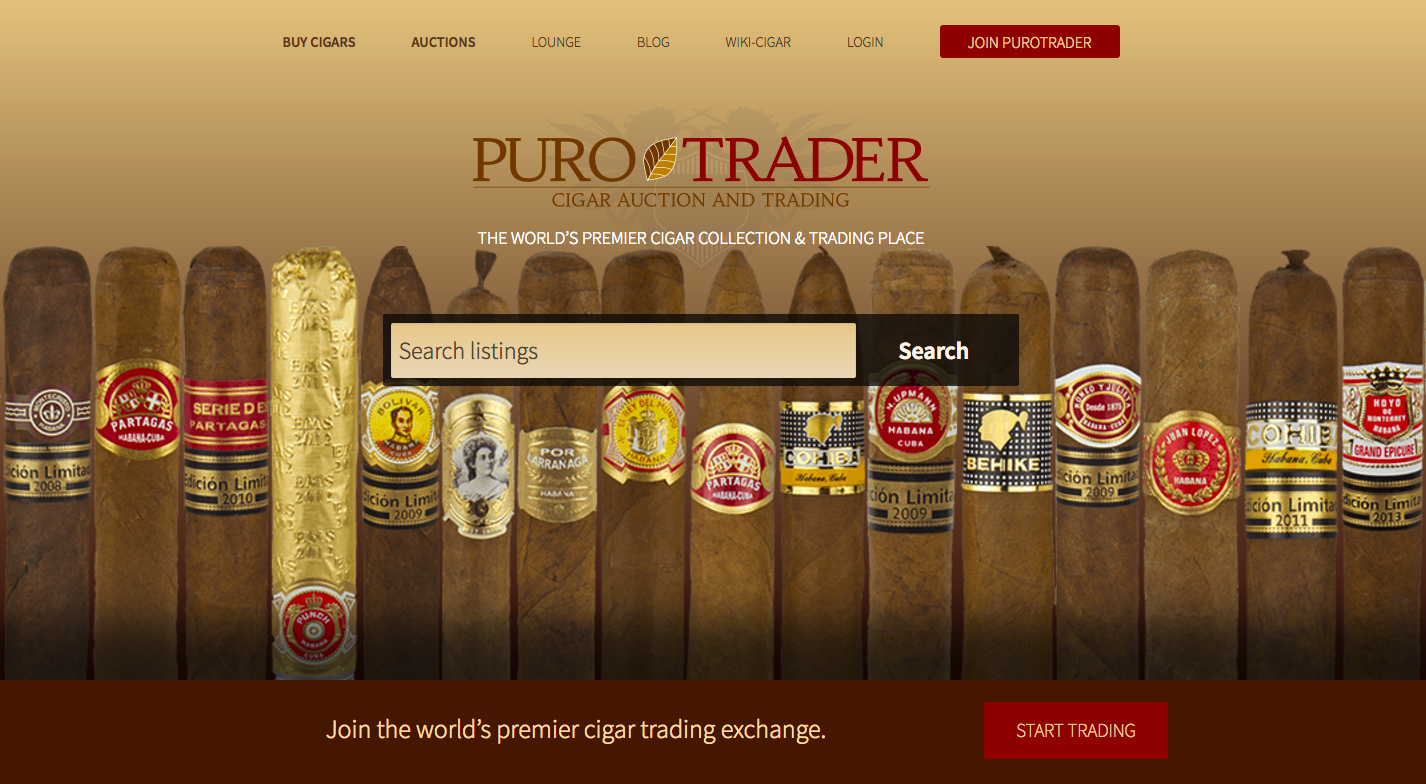 Looking to buy?
Browse, enter an auction or search for a particular cigar.
Looking to sell?
Post boxes or loose cigars from your personal collections for sale or auction.
Chat with fellow cigar aficionados in the Cigar Lounge! Share tips and tricks with other cigar enthusiasts.
You know the man, now get to know one of his preferred cigars for FREE!
Only 200 in Reserve:
Cuban Cohiba Robusto from PuroTrader's Private Collection
FREE with ANY PuroTrade Order
We asked PuroTrader to delve into the Founders Vault and set aside a few perfectly aged Cohiba Robustos, exclusively for our best customers.
Be one of the first 200 to buy or sell ANY cigar through PuroTrader and a Cohiba Robusto from PuroTrader's Personal Collection will be yours – Boveda included of course ($25+ value).
These Cuban Cohiba Robustos are a smooth smoke and:
• Deliver a complex blend of flavors—fresh grass, bean aromas and rich earth
• Were aged for at least two years
• Carry the box code pedigree from PuroTrader's preferred factory
But the availability of these prized cigars is limited. Once the 200 Cubans are gone, the Founders Vault shuts.
What Makes Boveda the Only Precision Humidity Control?
Two-way Humidity Control means the same thing to us today as it did when we patented the packaged version 20 years ago: The ability to add and/or remove moisture and still maintain a specific Relative Humidity (RH). It means acting on the environment instead of being at the mercy of it. It means specificity, reliability and predictability. 
But recently the term 2-way humidity "control" (or regulate) has been dumbed down to include the crude releasing or absorbing of moisture, whether the contents of your container needs it or not.
Think of your remote control. Would you be happy to punch in "62" and the TV goes to 80? No, you'd chuck the remote out a window with no concern whether it was open. If you set your thermostat to 68 in the summer but the furnace fires up, you'd make a thermostat-sized hole in your wall. Both those examples are analogs to what you get from non-Boveda 2-way humidity "control". "Good enough" is satisfactory for some people. But not for us. And not for your valuable cigars, guitars or cannabis.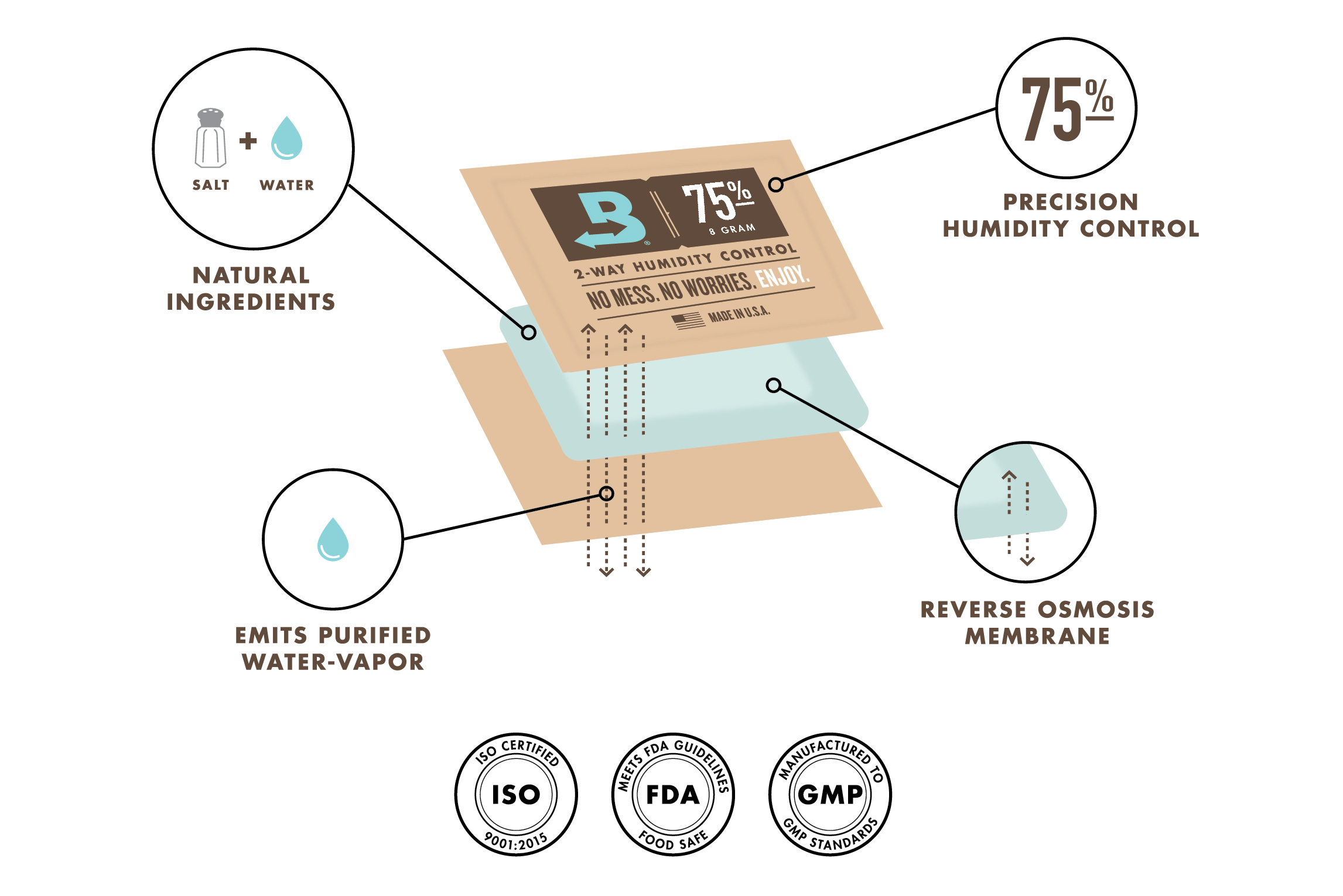 What's the not-so-secret ingredient only Boveda has patented to provide precision humidity control?
Salt. Science has known for 100's of years that a saturated salt solution is the only way to provide the capacity to add and/or remove moisture and still maintain the specific intended RH. Boveda patented the packaged version of that science. Without salt, any humidity "control" only has a starting RH that changes wildly as soon as it gives up or absorbs water. That's not specific, reliable or predictable. 
Boveda's natural, food-grade salts are the brains that know when to absorb and when to release purified water vapor. It's why you'll only find Boveda in the cigar boxes of leading cigar makers and the packaging of the biggest cannabis brands. Boveda means precision.
No salt = no precision humidity control.
Why is it Important to Season Your Humidor?
In the name of Rocky Patel,
please, please, please don't store cigars in a new humidor without seasoning it first. Think it's too complicated? Seasoning a humidor doesn't have to be a CHEM 101 project. See how Boveda 84% RH Seasoning Packs will make your desktop humidor cigar-ready in just two weeks. (And all you have to do is toss it in.)

Can you skip humidor seasoning?
A new humidor is a like a vampire. Its dry wooden interior is thirsty. It will suck the moisture out of every unsuspecting Arturo Fuente it comes in contact with. Additionally, you'll constantly battle low humidity levels that make for dry cigars and lousy smokes.
What if you season a humidor with distilled water? 
For a cigar aficionado, a humidor is an investment. Your humidor and its seal may not recover from improper seasoning with distilled water. Introducing 100% humidity to your humidor can shock the wood and literally cause damage. Why risk cracking, molding or warping the wood?
Why season your humidor with the Boveda 84 RH Seasoning Packet?
• Works in 14 days in one step with nothing else to add.
• Delivers the only patented 2-way humidity control by automatically adding AND absorbing moisture.
• Releases purified water vapor, which won't contaminate your cigar storage.
Whether your preferred smoke is La Flor Dominicana, Tatuaje, Padrón or another prestige cigar brand, let's start off with a proper humidor seasoning.
Video: Step by step instructions on HOW to Season your Humidor.
Website: Buy Boveda 84% RH Seasoning Packs right now!
3 Things We Wish People Understood About Cigars and Flavor
1. Fluctuations in humidity will cause cigars to lose essential oils and flavors.
Like fine wine, cigars are natural products that live, breathe and age. They're loaded with natural oils and sugars that provide all the character, flavor and foundation for improving with age. In fact, we even speak of the marriage between wrapper, binder and filler, where the oils and sugars contribute to a harmonious whole. Aging and allowing cigars to develop the "bloom" as the oils and sugars mature makes us really appreciate the harmony of flavors in fine cigars. (This is the reason you bought the cigars in the first place.)
Caring for cigars properly, like all natural products, is essential for enjoying them as the cigar master intended. To do that, you need to know some of the basics about cigar care, and indeed, about cigar tobacco.
Tobacco is "hygroscopic," meaning it has the ability to draw moisture from surrounding environments as well as give up moisture. Unfortunately, this makes it difficult to maintain the natural oils and sugars contained within the blend.
2. Neglecting to store cigars in a proper environment is a mistake. Don't compound a mistake with another mistake.
The biggest doom to fine cigars are fluctuations and/or cycles in humidity. There are 2 major enemies that are trying to impend this doom upon your cigars at all times. The first enemy is the storing environment. The second enemy is any inferior product that attempts to control this environment.
In other words, humidity fluctuations arise with normal changes in ambient temperature and humidity. Whereas cycles in humidity occur when using any refillable humidification device.  Both are bad for your cigars.
The humidity inside your humidor spikes when filling any refillable device with water. This is then followed by a steady drop in humidity as the water evaporates. During each of these cycles, some of the natural oils and sugars contained within the cigar's blend dissipate along with the moisture. This robs the cigar of its character, flavor and its foundation for improving with age.
Additionally, the jolt in humidity that happens when filling a refillable device with water creates an environment for your humidor to collect mold, mildew and bacteria. This not only can cause off-flavors in your cigars but can also cause degradation during the aging process.
3. How to wipe out fluctuations in humidity and age your cigars properly:
The answer is simple, Boveda. Before Boveda, all that cigar aficionados had to care for their precious cargo were one-way humidifiers like orange peels, lettuce heads, etc. (this all seems very old-fashioned to us). Two-way humidity control continually responds to the environment and maintains a very stable and precise RH (Relative Humidity). This stops fluctuations and extreme cycles these fluctuations put your cigars though. It is this balance that prevents loss of the natural oils, sugars and flavor as your cigars age.
—
Luke Chase
Marketing Associate
Keep the cello or remove the cello?
One of the questions we're most commonly asked on proper cigar storage is, "Leave the cello on or take it off?" Let's cover what cello is and what purposes it serves.
Cellophane (cello) is an organic material commonly made from trees. It's not always a clear film, but it almost always is when it relates to cigars. Cello transmits water vapor about 7 times slower than a naked cigar. This means a cello-wrapped cigar is less sensitive to shifting humidity levels than a naked cigar. For example, if you had two identical cigars stored in the same 70% humidor and put them on your desk in a dry environment, it would take 7 times longer for the naked cigar to turn into kindling.
For this reason alone, cello is a short insurance policy against humidity/temperature fluctuations. And with a Boveda in the box, these fluctuations are completely irrelevant for a much longer period. This is because Boveda is adding or removing moisture to maintain 69% in the box.
Cello also gives the delicate wrapper a small layer of physical protection. It shields the cigar wrapper from damage when you're stocking your humidor or tossing one in your pocket. If you're using gel/crystal/beads in your humidor, cello will reduce the chance of ruining your cigars. They are at risk from the 100% humidity they emit – because they can't remove moisture.
Now the big question – does cello influence the flavor of a cigar? Scientifically, no. Given enough time, everything that happens to an unwrapped cigar happens to one with a cello sheath. But what about the smokers that swear cello does make a difference? Do you know why they do scientific studies with a placebo group? Because if you're told you're taking a medicine, you're inclined to think it works, even if you're taking the placebo. The really crazy thing is that if even when telling subjects they're in the placebo group, they're still inclined to perceive the intended effects!
So if you believe cigars are better without cello, then remove the cello. Cigars are a matter of mood, experience and going to a place in your mind, so we encourage you to go there – cello or not. It's the same reason that smoking an Opus the day your dog dies won't be as good a cigar as a dime store cigar on the day you win the lottery. Gray matter between your ears has a lot to do with cigars.
Why do some manufacturers use cello and others don't? Part of it's tradition. Cubans aren't cello-ed. Since Cuba is still regarded the cigar mecca, if just for the traditions, there's a certain feel to a box of cigars that aren't in cello. It hearkens back the "old days" and the romance of cigars. It's aspirational. It's elegant. Padron and Tatuaje are just a couple that do this very well. At the same time, few brands have as rich a history as Fuente, yet wrapping and cello are together in many of their cigars.
Thankfully, personal preference will still persist. There's no doubt cello serves an effective purpose, without a downside. But if you're careful with your cigars and you're storing them with the global leader in 2-way humidity control, the only thing you need to wonder about is when you'll smoke the next one.
– Charlie
The surest method of reviving dried cigars
Being reminded recently of some vintage methods of trying to revive dried cigars. This article from Cigar Inspector discusses variations of methods that have existed for years, using items/places around your house. The reason results vary widely is because they're 100% dependent on external conditions – ambient RH, ambient temp, number of cigars, level of dehydration, etc. – and every smoker will have their own unique set of circumstances. The only guarantee you have by following all those steps is that it's a lot of work. Here's why:
1-way moisture devices (PG solution with sponges, crystals, beads, kitty litter) will only give off humidity and they don't know when to stop. They only quit giving off moisture when they completely evaporate. This "flashing" of your cigars with humidity is dangerous anytime, but especially when the wrappers are dry and hyper-sensitive to moisture. Could it work? Sure. But odds are it will be an expensive lesson when the wrappers crack during smoking.
There's a way to avoid all the risk of the old methods – Boveda (formerly Humidipak).
Our patented 2-way humidity control only adds a safe, measured amount of humidity and it stops when it gets to the RH% on the pack. That's why, unlike every PG solution/distilled water + sponge, crystal, bead, etc., that keep adding moisture even when it's not needed, you're never in danger of over-humidifying cigars with Boveda. That's the beauty of 2-way humidity control. It adds or removes moisture as necessary. It isn't controlled by the environment, but rather acts on it. So, here are two one-step methods of reviving dried cigars.
1. Put cigars in a Fuente Humidor Bag (69% Boveda inside) for a month. Done.
2. Put cigars and a Boveda 69% in Tupperware for a month. Done.
Why a month? Cigars lose moisture 4 times as fast as they can safely gain moisture. Expose your cigars to a safe, stable level of perfect humidity to minimize the chance of the wrapper cracking as the filler gains moisture and grows. Nothing good happens quickly with cigars, so be patient.
Of course, you can avoid dead sticks in the first place by using our zero-maintenance products in any of your storage devices. For simple how-to videos, check out our YouTube page.
Charlie