Ready to really enjoy your cigars the way the master blender intended? Then make sure your humidor maintains a precise RH (relative humidity) level that's perfect for premium cigars.
Have 1-way humidifiers, like sponges, gels, crystals and beads turned cigar storage into maintenance? Just one more thing on your to-do list? Cigar humidification doesn't have to be hard or time-consuming.
Switching to automatic 2-way humidity control, like Boveda, for your cigars eliminates:

Re-wetting sponges
Measuring water for an oasis
Spilling water in your humidor
Checking status of beads and gels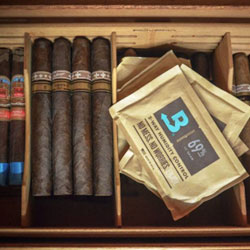 When cigars are your hobby, maintaining a humidor doesn't have to be a chore
Humidors are a storage container, just like a refrigerator is a storage container. How much time do you spend thinking about the conditions inside your fridge? That's about as much time as you should spend thinking about what's going on in your humidor.
The only way to take the guesswork out of humidity control in your humidor is with 2-way humidity control. Boveda automatically achieves and maintains a precise RH level for the long-haul. Just use at least one Boveda per 25 cigars your humidor holds. Then replace those Boveda when their salt-water solution inside hardens—anywhere from 2 to 6 months depending on your humidor, your cigars and your climate.
Fiddling with refillable humidification products to achieve "good enough" steals time you'll never get back. Time you could be smoking a well-humidified cigar. And letting Charlie Minato from halfwheel show you how to evaluate a cigar.
HOW TO FIX A LOW RH% IN YOUR HUMIDOR
BEHIND-THE-SCENES TOUR OF HALFWHEEL'S CIGAR VAULT
SUBSCRIBE TO BOX PRESS ON YOUTUBE